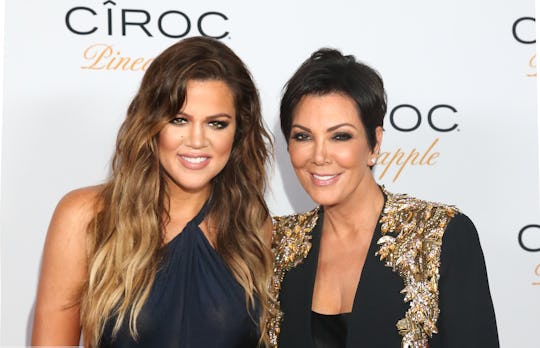 Rochelle Brodin/Getty Images Entertainment/Getty Images
Here's How Much Kris Jenner Reportedly Dropped On Khloé Kardashian's Nursery
If you know anything about Kris Jenner, it's that she loves taking care of her six kids. From managing her children's careers to heeding their every beck and call (seriously, she's is always running an errand for one of her kids), Jenner thoroughly enjoys being there for her large brood. Of course, Jenner's affection also extends to her eight grandkids and grandbaby on the way, and she's clearly more than happy to shower them with gifts. Case in point: Jenner hit up a pricey Beverly Hills boutique on Thursday, and while there, she reportedly dropped a ton of dough on items for Khloé Kardashian's nursery. So, exactly how much did Kris Jenner reportedly spend on Khloé Kardashian's nursery? To probably no one's surprise, the price tag is a bit hefty.
Following the news that Kardashian is expecting a girl with her boyfriend, NBA player Tristan Thompson, Jenner took to Instagram on Monday to express her joy about the news. "It's a girl!!! SO blessed!! I can't wait to welcome another beautiful baby girl into our family," Jenner penned, according to Instagram. "Congrats my beauty @khloekardashian and @realtristan13 !! God is good!!"
And to further prove how excited she is about her future granddaughter, Jenner supposedly treated Kardashian to a shopping trip at Petit Tresor, the same swanky baby store in Beverly Hills that Kylie Jenner shopped at prior to Stormi's arrival. Who knows, it's totally possible that Kylie gave Kardashian the hot tip about the store.
But how much did Jenner decide to shell out for her granddaughter's digs? Jenner must have been feeling extra generous during the trip, because she reportedly spent $8,000 on items for Kardashian's nursery, according to TMZ.
For those of you who are wondering how Jenner managed to rack up such a high bill, look no further than three giant stuffed giraffes. Yep, for the price of $3,600, Jenner supposedly walked away with three massive toy giraffes, according to the Daily Mail. Of course, it's possible that Jenner bought the giraffes for each of her youngest grandkids — I can't imagine for the life of me why Kardashian would need three human-sized stuffed animals for herself.
Moving on to the more practical items, Jenner reportedly spent an additional $4,200 on a pink nursery glider chair paired with a matching ottoman, according to Cafe Mom. And to top it all of, Jenner put down $550 buckaroos for a silver high chair, according to TMZ.
The good news for fans is that the duo's shopping trip was filmed for an upcoming episode of Keeping Up With The Kardashians, according to E! Online. Additionally, a supposed eyewitness told E! News that Kardashian was drawn to pink items at the store:
They picked out nursery furniture and baby clothes while filming for the show. Khloe was focused on neutral colors and a lot of pink items. She loved looking at all the clothes and soft stuffed animals. She was bending down and checking everything out, holding and feeling each item she looked at. She was very involved as was Kris.
Making matters even more cute is that Kardashian was supposedly very appreciative of Jenner's generosity. "Kris was making suggestions on what Khloé should buy and Khloé agreed with a lot of what she said," the source continued, according to E! Online. "Kris paid for everything and was happy to treat Khloé. They ordered furniture that will be delivered to Khloé's home and they left with several bags of baby blankets, toys and clothes."
Obviously, it goes without saying that Kardashian could have paid the bill for the items. Kardashian does have a reported net worth of $40 million, after all. It's important to consider, however, that Jenner might have insisted that she buy the gifts for Kardashian. Not only does Jenner probably want to make this exciting time for Kardashian even more special, but it's also likely that she wants to get a head start on spoiling her granddaughter. Either way, this matter is completely between mother and daughter.
Money matters aside, it's really awesome that Jenner is already so involved in her granddaughter's life. No matter how you may feel about Jenner, there's no denying she loves her family.
Check out Romper's new video series, Bearing The Motherload, where disagreeing parents from different sides of an issue sit down with a mediator and talk about how to support (and not judge) each other's parenting perspectives. New episodes air Mondays on Facebook.