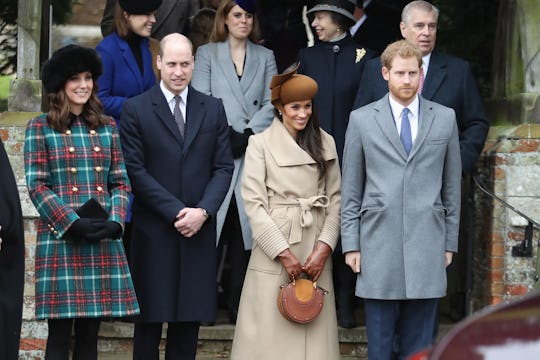 Chris Jackson/Getty Images Entertainment/Getty Images
Here's How Much Kate's Rich Father-In-Law Spent Last Year To Make The Royal Trio Look "Amazing" *Lip Bite*
Being a member of the British royal family might look like it's all fun and games, but being expected to be fashionable and act perfectly friendly, happy, and gracious at all times while out in public can be a lot of work. It can also be really, really expensive. Prince Charles pays wardrobe costs for his sons and their wives, and thank goodness dad is here to pick up the bill — the latest tally on the clothing costs of the Duke of Cambridge, Prince William; Catherine, the Duchess of Cambridge; and the Duke of Sussex, Prince Harry, prior to marrying Meghan, the Duchess of Sussex, shows that keeping up appearances is rather *tense aristocratic face* on the wallet. And yes, there is a dollar figure we can put on the fly four.
Kate Middleton became a bonafide style icon after marrying Prince William in 2011, but even though the new mom-of-three isn't afraid to recycle her favorite wardrobe pieces and embrace both high-end and affordable styles, outfitting a duchess still comes with a very high price tag. Critics may assume the Duchess of Cambridge's closet is directly paid for by taxpayer money, but the reality, according to The Telegraph, is that her father-in-law, Charles, the Prince of Wales actually foots the bill, just as he does for himself, his wife, and both of his sons. And now that Meghan is also a duchess? He covers the cost for her, too.
In 2017, Prince Charles spent an estimated $6.5 million on his sons and daughter-in-law — the OG royal dream team — for their official royal engagements, according to The Telegraph, which marks an increase of about $1.8 million from the year before. If that seems like a lot, well, it is. But there also seems to be a very good reason: with 97-year-old Prince Philip, the Duke of Edinburgh, having retired from public life in August 2017, according to BBC News, and 92-year-old Queen Elizabeth II increasingly scaling down her own royal duties, the younger senior royals (now including Meghan) have had to step up. And that pretty much means that everything other than travel to and from royal engagements — which is paid for by the Queen out of the taxpayer-funded Sovereign Fund — is covered by Prince Charles.
So how, exactly, does Prince Charles pay for all this? In addition to being the Prince of Wales, Charles is also the Duke of Cornwall, which entitles him to funds earned via the Duchy of Cornwall, a private estate managed by the prince that consists of about "53,000 hectares of land" — about 131,000 acres — in England along with a financial investment portfolio. The duchy has been passed on to every Duke of Cornwall since it was first established by Edward III in 1337, and it definitely seems to be thriving: according to The Telegraph, Prince Charles received about $28.5 million from the estate in 2017.
In other words, it sounds like Prince Charles can certainly afford outfitting his children and their spouses in expensive clothes for their royal duties, and it also explains how he was able to foot the bill for the Duke and Duchess of Sussex's exclusive evening wedding reception at Windsor Castle's Frogmore House following the larger, more formal daytime reception hosted by the Queen. But as much as Prince Charles' expenditures may have increased in 2017, 2018's amount will definitely be higher: although Prince Harry and Meghan were engaged as of November — and even though Meghan participated in official royal events — the Prince of Wales didn't become responsible for her clothing and other related costs, until their wedding in May.
Prior to their big day, Meghan is thought to have paid for her wardrobe out of her own pocket, according to People, though, to be fair, she wasn't exactly struggling to get by: towards the end of her time on Suits, Meghan was reportedly earning about $50,000 an episode. And Prince Harry was also more than able to chip in — he's said to be worth approximately $25 million, according to Money, having received a trust fund of about $10 million from the estate of his late mother, Princess Diana, and a large inheritance from the Queen Mother, Prince Harry's great-grandmother. The Queen Mother also reportedly gave Harry a larger share than his brother, Prince William, as it's Prince William who will go on to eventual inherit the Duchy of Cornwall when Prince Charles takes over the British throne.
Even though being a royal is eye-wateringly expensive, it's clear that the Windsors are sitting on generations of inherited financial security. At least tax payer money isn't being used?
In any case, for all the incredibly unnaturally-perfect post-birth photo calls on the steps of the Lindo Wing, I wouldn't begrudge Kate Middleton a pound of it. Likely, Kate would have been perfectly happy to step out in front of waiting cameras in maternity leggings and a ponytail, but there is an intense amount of attention on her life, and many would say the girl deserves a quality shift to get through it. As legendary fashion photographer Bill Cunningham once said, "fashion is the the armor to survive the reality of daily life," and it's hard to put a price on that.