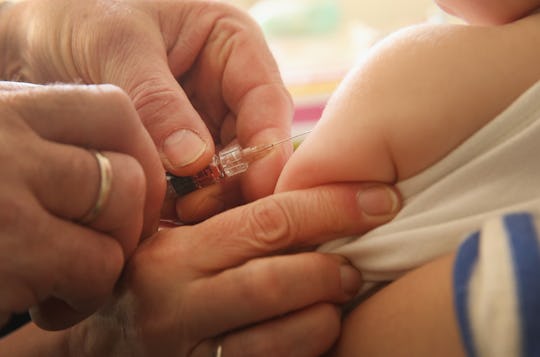 Sean Gallup/Getty Images News/Getty Images
Here's How Much The Cost Of Vaccines Will Change Under Trumpcare
After the House passed the American Health Care Act earlier this month, the controversial "Obamacare" replacement bill now heads to the next phase of its life on Capitol Hill. While Congress grapples with a week's worth of Trump-Comey-Russia controversy, there are still 13 senators — all male — putting together a companion Senate version of the bill. By repealing the Affordable Care Act, Trumpcare gives states the option of whether or not to participate in essential benefits coverage, putting the coverage of preventative services like vaccinations in jeopardy. Here's how much the cost of vaccines will change under Trumpcare. Spoiler alert that is a shock to no one: It's a lot.
Currently, the Affordable Care Act mandates 10 areas of essential benefits. One of these areas includes coverage for preventative health services, including childhood and adult vaccinations. Specifically, childhood vaccinations must be covered, with no copay or coinsurance, according to the Healthcare.gov website. This of course only applies to plans on the individual marketplace. According to a 2003 study, private insurance covered vaccinations for 52 percent of children ages 0 to 5; the data doesn't drill down into whether vaccinations were covered in full or in part — but it doesn't matter if Trumpcare becomes law.
Thanks to the MacArthur Amendment in the AHCA, states can apply for waivers from mandating essential benefit coverage. Those states that do opt out may choose to define their own essential benefits — or, they may choose not to mandate essential benefit coverage at all. For all intents and purposes, if a state applies for a waiver on essential benefits, it's fairly safe to assume that vaccinations will no longer be free under Trumpcare. So let's talk bottom line: How much will vaccinations cost under Trumpcare?
The Centers for Disease Control and Prevention maintains a vaccine price list — the only one of its kind centralizing prices for all vaccines currently approved for children and adults in the United States. They include private sector prices per dose of each vaccine, but note that these prices are supplied to the CDC by the pharmaceutical companies only once per year, and those prices may vary.
Take for example the varicella — chickenpox — vaccines. The CDC lists Varivax, the chickenpox vaccine produced by Merck, as costing just over $115 per dose. But if you went to your local Walgreens, that same vaccine would cost you $149.99 per dose, according to the Walgreens vaccine price list for people without insurance. Considering two doses of the vaccine are recommended for children, the price for the chickenpox vaccine under Trumpcare just went from $0 to as much as $230 to $300 for a complete series of vaccinations. But that's just for a single vaccine.
Here's what one final possible out-of-pocket vaccine price tag would look like: For a child under 18 years old, expect to pay $1,937 for their entire vaccination schedule under Trumpcare, where these costs would no longer have to be covered. (Some notes on methodology: The calculation used both the CDC's vaccine price list and its recommended immunization schedule for children 18 years and under, as well as the average private sector price if there was one than one brand of vaccine. Additionally, this calculation did not factor in combined vaccines that prevent more than one disease with each dose.)
While nearly $2,000 spread out over the course of 18 years may not seem like that much, some of the priciest vaccines must be administered by the time a child is is 18 months old — and require multiple doses, hitting families the hardest when a child's needs are typically most expensive. Bottom line: If Trumpcare becomes law, vaccines are about to get a whole lot more expensive for families.