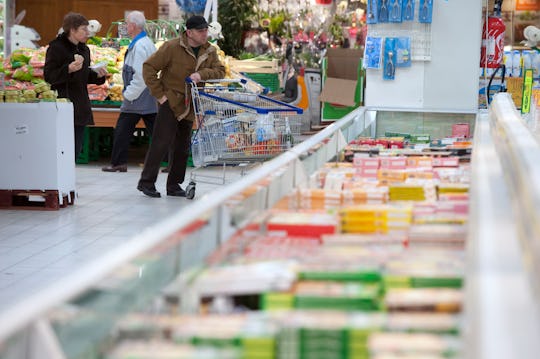 AFP/AFP/Getty Images
Here's How To Tell If Your National Frozen Food Veggies Have Been Recalled
In yet another massive listeria recall, CNN reported that frozen vegetables sold by two major retailers have been pulled from store shelves by the FDA this week over contamination concerns. According to that report, National Frozen Food Corp. has issued a voluntary recall of frozen peas and mixed vegetables sold under six different brand names since early fall of last year. Consumers will definitely want to take note of which National Frozen Food veggies have been recalled, as the bulk of the products in question were sold by two major retailers: Walmart and Target.
The recall includes peas and mixed vegetables sold under Walmart's Great Value and Target's Market Place frozen brands, as well as those sold by national retailers under the Bountiful Harvest, First Street, Live Smart, and Sprout product labels, according to the FDA's official notice.
According to the CNN report, the frozen vegetable supplier issued a voluntary recall after routine testing uncovered possible contamination. So far, no customers have reported becoming sick from eating tainted vegetables included in the recall. That's good news, considering the list of possibly contaminated items were available on store shelves from Sept. 2, 2015 through June 2, 2016, according to the official recall notice.
And its relatively easy to tell if you've purchased a possibly tainted product. A quick check of the bar code on the back of a frozen food package should reveal whether it's been subject to recall. Here is a basic list of items, product sizes, and UPC codes that have been recalled by National Frozen Foods:
Bountiful Harvest Green Peas 40 oz. 22486 11904
First Street Green Peas 12 oz. 41512 12134
First Street Green Peas 40 oz. 41512 08202
Great Value Mixed Vegetables 12 oz. 78742 05334
Great Value Mixed Vegetables 26 oz. 78742 10907
Great Value Steamable Mixed Vegetables 12 oz. 78742 08026
Great Value Sweet Peas 12 oz. 78742 05336
Live Smart Mixed Vegetables 32 oz. 603539
Market Pantry Mixed Vegetables 32 oz. 85239 00547
Market Pantry Steam-In-Bag Mixed Vegetables 12 oz. 85239 00494
Market Pantry Steam-In-Bag Mixed Vegetables 12 oz. 85239 00494
Sprouts Farmers Market Mixed Vegetables 16 oz. 74875 00983
For consumers worried that they've unknowingly purchased a tainted item, the full list of 45 recalled products, including lot information, is available at FDA.gov.
News of the National Frozen Food recall comes just two months after frozen food supplier CRF Foods kicked off a cascade of listeria-based recalls when it pulled some 350 products from store shelves. Other suppliers have issued more than 40 recalls since the beginning of May, according to the FDA Food Safety Database, including 47 million pounds of meat and poultry products sold by Ajinomoto Windsor, Inc.
In its report, CNN warned that this latest recall is likely to spark another series of additional recalls, as more companies discover that they've used possibly tainted items as ingredients in their products.
And it's important that companies move quickly, as consuming food tainted with the bacterium associated with listeria, Listeria monocytogenes, can cause serious — even deadly — health concerns. According to the FDA website, when an otherwise healthy person contracts listeria, they can suffer high fever, severe headache, stiffness, nausea, abdominal pain, and diarrhea. But the risks can quickly skyrocket in people with other health issues or compromised immune systems. Exposure to listeria can be fatal for children and elderly people; pregnant women who contract listeria can suffer miscarriage or stillbirth, according to the FDA.
National Frozen Foods has urged customers not to consume any of the items on the list, and to either throw out affected products or return them to the retailer for a full refund.