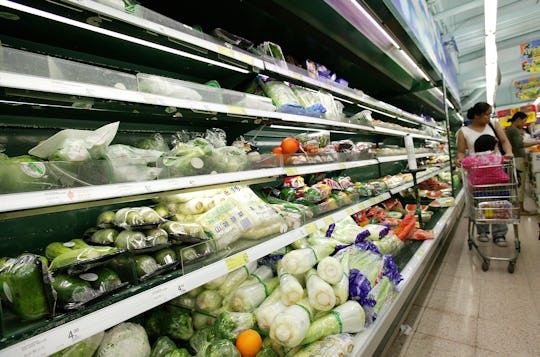 ANTONY DICKSON/AFP/Getty Images
Why Have There Been So Many Listeria Recalls? They Could Actually Be A Good Sign
If it seems difficult to keep track of just how many listeria outbreaks there have been recently, and there's a very good reason. Since CRF Frozen Foods first announced a voluntary recall of a handful of vegetable products over possible contamination earlier this spring, the number of recalls has ballooned to include food giants including ConAgra and The PictSweet Company — as well as major retailers Costco, Trader Joe's, Harris Teeter, and Kroger. But with so many warnings circulating, the natural question from consumers is: why have there been so many listeria recalls?
In fact, there have been no fewer than 41 listeria recalls issued since the beginning of May according to the FDA Food Safety Database. Since CRF expanded its initial food recall to include more than 350 products and 41 brands, an additional 47 million pounds of meat and poultry products were added to the list of tainted frozen vegetables, rice mixes, cold salads, and bread products pulled from store shelves, according to the U.S. Department of Agriculture. Customers in all 50 states and parts of Canada have been affected, and households have been asked to toss out hundreds of everyday products in an effort to avoid the dangers of ingesting listeria-tainted foods.
But the long list of recalls may actually be a sign of progress in the industry, according to some food safety experts. In an interview with Patch.com earlier this month, Michigan State University food science professor Elliott Ryser said that, despite the spike in safety alerts, a relatively small number of people had actually gotten ill. He added, since the recalls were triggered by flags in the inspection process, rather than reports of consumer illness, it was a sign that the nation's food inspection process was getting stronger.
The CDC [Centers for Disease Control] has gone to what they call 'whole-genome sequencing' to identify Listeria and other pathogens. It's more sensitive than what we've used in the past.
A PBS NewsHour report on the recent spate of outbreaks explained the significance of this new genetic technology: once the CDC had listeria's unique DNA fingerprint in its database, researchers could quickly match new samples found during routine inspections with those from organisms known to have caused outbreaks in prior years. As a result, manufacturers can quickly and voluntarily pull items from retailers and households before consumers report new illnesses.
Since listeria has the potential to cause serious illness in pregnant women, children, the elderly, and those with weakened immune systems, early detection could save lives.
Still, given the rising tide of recall notices, shoppers might be less than confident about choosing the safest foods to eat right now. The Listeria bacterium — or listeria monocytogenes — is notoriously difficult to stamp out, according to the CDC website. So, the safest bet is for shoppers is to throw out possibly tainted foods and to stay aware of new items that make the nation's recall lists.
Listeria outbreaks are scary business, but knowing how to properly handle and store food — as well as what symptoms to look for in a listeria outbreak — can make all the difference.