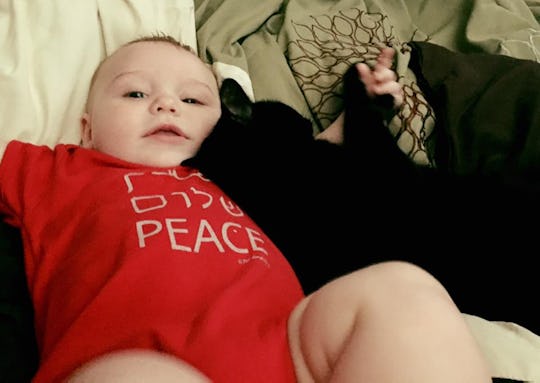 Courtesy of Steph Montgomery
Here's How Well Your Baby & Your Pet Will Get Along, Based On Their Zodiac Sign
From my father's hunting dog (who slept on my bed when I was little) to the fish tank that currently gurgles in my dining room and the cats that are permanent fixtures in the sunbeam on our living room rug, I have always been a pet owner. So every time my husband and I had a baby, I wondered how our family dynamic might change. In fact, I would argue it's normal to worry about how well your pet will get along with your baby... and it's just as normal to consult your Zodiac for answers.
Now, I'm not saying you shouldn't consult your veterinarian or animal trainer, or read articles or books about how best to introduce your baby to your pet and foster a loving relationship between them. What I am saying, however, is that you don't have to stop there. Just for fun, I put my own kids' Zodiac signs to the test and in order to find out if their astrological profile matched up with their pet relationship style. Guys, they were pretty damn accurate.
My youngest is an Aquarius, which means he is independent, temperamental, and aloof. In other words, he pretty much thinks he's a cat so he'll chase our cats around, sleep next to them, and even meow when they come into the room. And, for the most part, they've accepted him as one of their own, too. My middle child is Scorpio, caring and loving, but also a tad bit too intense for our cats to fully appreciate. My daughter is a Gemini, so she's curious and affectionate but also restless and always looking for an adventure, which sometimes involves dressing our cats up in hats (and to our cats' dismay).
No matter what their Zodiac sign, your babies and pets will eventually learn to get along, or, at the very least, tolerate each other's existence. To learn more about how the stars might help of hinder that process, read on: