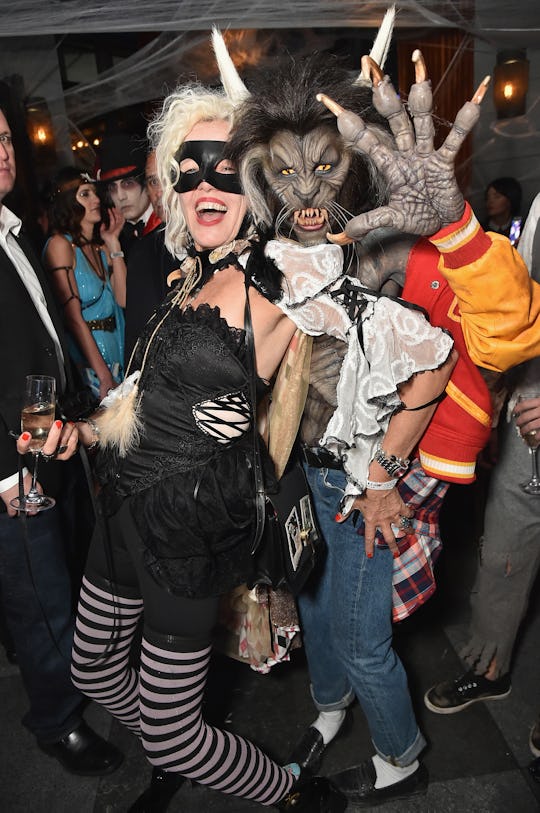 Mike Coppola/Getty Images Entertainment/Getty Images
The Ideal Time To Buy Halloween Costumes Means You'll Skip The Last-Minute Rush
The most magical, wonderful, and spooky time of year is just about here, because it's almost Halloween. In the coming days, those Halloween pop-up shops will become the most popular places around, filled loads of costume shoppers. But you can skip the line. Here's the best time to buy Halloween costumes out of the entire year. Depending on your needs, the perfect costume purchase can occur at almost any time.
If saving big is your top goal, then it pays to plan ahead, maybe even picking out next year's costume in the following weeks. Like any holiday, the best deals on Halloween merchandise hit right after the celebrations end. "The best time to buy cheap Halloween merchandise is right after the holiday when specialty stores and retailers deeply discount goods anywhere from 50% to 80% off," said Andrea Woroch, consumer savings expert for The Frugals, in The Street. It's the easiest way to get a great deal on whatever costumes remain at the shops.
But if you're looking to get a pretty cheap costume for this year's celebrations, then the next-best time to shop for deals is happening right about now. In later October, after the 15, some stores start offering real discounts. "Now that October 15 has passed, you can expect to see up to 75% off Halloween costumes and decor at ThinkGeek and up to 50% off costumes at Urban Outfitters," according to Deal News. Basically? Shop right now for some fairly deep discounts.
If a particular costume is what you're after, then buy it ASAP. "If you have a specific costume in mind . . . in particular, if your child has a specific costume in mind, it might be good to snap it up now," said Trae Bodge of Slickdeals in WJLA. Stores such as Spirit Halloween already have a pretty good sales section going on, so you can get that crucial pokeball dress or Ultron costume for a little bit of a discount. In a perfect world, whatever your kid wants to be this Halloween will also appear in the sale section.
But what if a next-level, custom-made costume is what you crave? That will require some serious lead time, so perhaps plan it for next year. If there's a particular costumer on Etsy or another site whose work you enjoy, be sure to check those order times. Handmade goods may take weeks or even months to create, so maybe save that custom Khaleesi costume idea for next year. Really, there's no such thing as too much lead time for a seamstress, so even consider placing those orders for next year's costume in the next few weeks.
So what happens if you're in that mad dash for a costume, because Halloween is literally tomorrow? No worries, I've been there many times. Although you can try your luck at the shops, they're guaranteed to be super crowded. There's always the options of a last-minute Halloween costume thrown together with things you already own, because those can be surprisingly fun. And if you want to feel super-productive, plan on buying next year's costume on November 1.