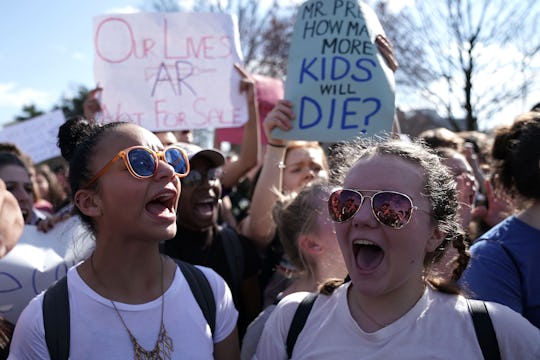 Alex Wong/Getty Images News/Getty Images
March For Our Lives: Here's Who Is Set To Speak & Perform In 3 Major Cities
In light of the tragic shooting at Marjory Stoneman Douglas High School in Parkland, Florida, a group of students who survived the shooting are taking action. They are organizing the March For Our Lives, scheduled for this Saturday, March 24 and headquartered in Washington, D.C. The march will demand that the government stop the mass shootings epidemic, namely by passing stricter gun safety laws. Since being announced last month, the march has already generated a significant amount of buzz — several celebrities have donated huge amounts of money, sister marches have popped up in dozens of cities, and the march has gained national news attention. That being said, you may also be wondering: Who is speaking at the March For Our Lives?
Considering the march is being almost entirely organized by students, it makes sense that the speakers at the Washington D.C. march will be all teenagers who have been affected by gun violence, according to a press release shared by the March For Our Lives team. Specifically, there will be 17 speakers at the D.C. march, in honor of the 17 people killed by a gunman at Marjory Stoneman Douglas High School.
In addition to speakers, there will be musical performances from artists including Ariana Grande, Miley Cyrus, Demi Lovato, Jennifer Hudson, Andra Day, Common, Vic Mensa, and other surprise guests. Those attending the D.C. march who want to see the speeches and musical acts will want to find a good spot by the stage, situated at 3rd and Constitution Streets, NW.
David Hogg, who survived the Parkland mass shooting, announced a few of the D.C. march's performers in an interview with CNN. He told the outlet:
We're gonna have four major independent women that are standing with us and walking beside us, and those are Ariana Grande, Jennifer Hudson, Miley Cyrus and Demi Lovato... They're gonna be standing there with us and marching with us and they're some of the few people that are really coming out and stepping up with us.
Satellite marches will be happening all over the country during the main march in D.C. The Los Angeles march has already confirmed a long list of speakers, according to Deadline. Amy Schumer, Olivia Wilde, Yara Shahidi, Connie Britton, Skai Jackson, Denver Choir, Lara Downes, Ta'Rhonda Jones, Cappie Pondexter, Bret Lockett, Hasan Piker, Jacob Sartorius, Mason Cook, Meg Donnelly, and Sierra Dupri are all set to speak at the LA March For Our Lives. Charlie Puth and other surprise guests are set to do musical performances. Additionally, as Thrillist noted, several Marjory Stoneman Douglas High School students will be speaking, as will Rebecca Mieliwocki and William LeGate.
Like the D.C. march, New York City's March For Our Lives plans to only showcase student speakers. Parkland shooting survivor Sam Hendler, 16, will be attending the NYC march. Last week, he told amNewYork that he will likely be the one to read the names of the 17 Parkland mass shooting victims on the NYC march's stage. "No lives should be lost due to the use of automatic weapons, and I just want to come together with everyone else in the nation who is supporting us to thank them and keep it going," he told the outlet.
Also speaking at the NYC march will be one of the founders of the Wear Orange anti-gun violence campaign, as well as other survivors of gun violence, as reported by Patch.
The Parkland shooting survivors organizing the March For Our Lives have already solidified themselves as names that will be printed in American history textbooks in the future. Organizers including Emma Gonzalez and Cameron Kasky have unabashedly shared their feelings about gun violence in the weeks since the shooting. They've spoken out on Twitter, in powerful speeches at rallies, and even at CNN's town hall on live TV, demanding change from the NRA and the U.S. government. Even though these teens are hard at work organizing the march, it wouldn't be a surprise if they took the stage at the march to speak.
There's no doubt that powerful speeches will be heard all around the world on March 24. You can find more info about sister marches on the March For Our Lives' Facebook page and on the march's website.