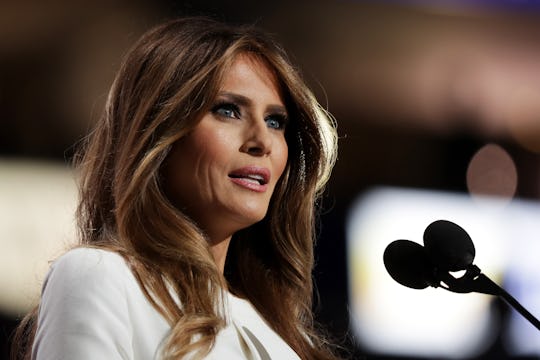 Chip Somodevilla/Getty Images News/Getty Images
Here's The One Thing You Shouldn't Say About Melania Trump, No Matter Who Wrote Her Speech
On Monday night, Melania Trump, wife of presumptive Republican nominee Donald Trump, delivered a primetime address at the Republican National Convention in Cleveland, and it should have been a huge success. On a night that included remarks by Duck Dynasty star Willie Robertson, Scott Baio, and Antonio Sabato, Jr., there wasn't any reason to think that Trump would be less than stellar. And by many accounts, she delivered an awesome speech. But, accusations that Trump lifted part of her remarks from Michelle Obama's 2008 Democratic National Convention address have stolen any joy the campaign might have gotten from it. And while someone should definitely answer for stealing Obama's words, let me be crystal clear about this: there's one thing you shouldn't be saying about Melania Trump. No matter how you feel about her decisions (including marrying Donald Trump), there's no room for slut-shaming or gendered name calling in this discussion.
Within minutes of Trump taking the stage on Monday night, the inappropriate comments had already started to roll in on Twitter. First came the obvious attempts to reduce Trump to her physical appearance: users lobbed critiques online about everything from her choice of dress to her "hotness" compared to Michelle Obama. Then, as comparisons to Obama's speech came to light, the remarks on social media took a turn for the ugly.
In her 15 minutes on stage at the Republican Convention, no fewer than 146,000 tweets were directed at Trump, according to a Vocativ analysis. And of the negative tweets hurled at Trump, more than 500 used misogynistic terms like "b*tch" or "wh*re," while others referred to her as "plastic." Certainly, anyone stepping into the national spotlight should expect mixed reactions, but those words took criticism way too far.
Facebook user LeighAnn Kopans explained the issue perfectly in a public post on Tuesday morning:
Melania Trump is a woman who has posed nude for major publications, is rumored to have dated married men, is a beneficiary of plastic surgery, delivered a speech plagiarized by a sitting First Lady, and is married to a man who I might guess was the antichrist if he was just a little bit smarter.
None of those things mean that it is okay, under ANY CIRCUMSTANCES, to call her a whore, slut, bitch, or cunt, outright or by implication. That is slut-shaming misogyny and there is absolutely zero place for that language, intimation, or behavior in the Democratic Party of which I am a proud lifelong member.
Bravo to that. Kopans had more to say, though, specifically about those who would use the current dust-up as yet another opportunity to slut-shame Trump:
Our party stands for gender equality and women's rights. If you feel a need or a right to call Melania Trump a slut because of the clothes she puts on her body or the photographs she has chosen to pose for, you need to take a step back and ask yourself if you are being a good representative of our party, or if you are part of the problem.
So far, the Trump campaign has denied allegations that Trump plagiarized Obama's speech, even going so far as to distance the campaign staff from the process of writing and vetting the potential first lady's remarks. So not only is the former model facing harassment online, her husband's campaign team is offering her little cover. Not an enviable position.
To be clear, there's plenty of room to criticize Trump — and indeed her husband as well as the entire Trump campaign — for usurping Obama's words in an attempt to make an authentic connection to voters. It speaks to issues of integrity and honesty that should be central points in any election. But there's no excuse for making sexualized judgments about Trump's choices. Whether her husband is the GOP's choice or not, Melania Trump's sexual past aren't part of the party platform. And they shouldn't be part of the public discussion.