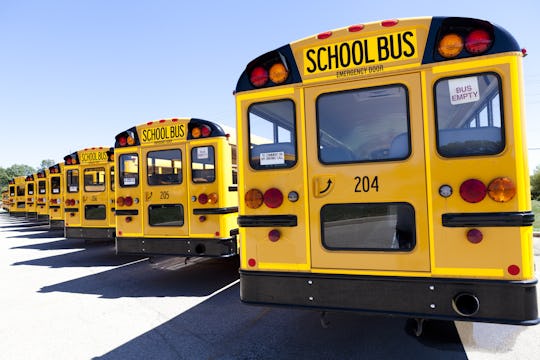 maksymowicz/Fotolia
Here's What Happens On Your Child's School Bus, & What Drivers Want You To Know
School's in session, and once again, mornings across America are punctuated with the sounds of moms urging kids, "Hurry up, or you'll miss the bus!" But once the doors close and the big yellow vehicle roars away, you might wonder what happens on a school bus between the time your child says goodbye to you and the moment they arrive at the school doors.
Even before the first day of school, a lot of preparation goes on. School bus drivers usually report to work a week or two before the fall semester begins, where they attend orientation meetings and classes in such topics as safety procedures and rules of the road. They're also responsible for making sure their buses are in good working order. They then get their routes for the year, and the daily drive begins.
It can be nerve-wracking to send your child on the bus alone for the first time, but drivers understand that nervousness, veteran bus driver Jerrideane Lehman tells Romper. "It gets better as they get older," explains Lehman, who is also the secretary-treasurer of the Indiana State School Bus Drivers Association. "First- and second-grade moms are more relaxed than preschool and kindergarten moms."
Here's an inside look at what goes on inside the average school bus — and what drivers want parents to know.