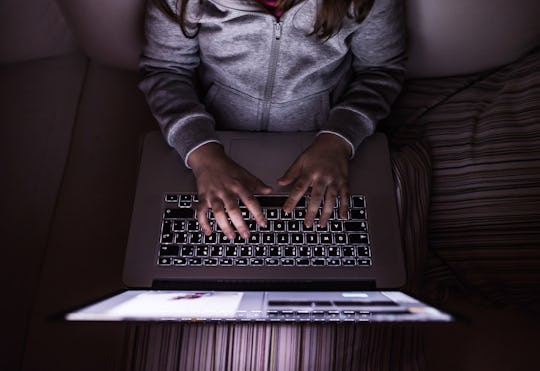 halfpoint/Fotolia
Here's What Happens When Your Kids Learn About Sex From Porn Instead Of You
These days, even very young kids are highly likely to stumble onto disturbing images on the internet. That's scary, but you don't have to throw out your router just yet (for one thing, it won't help — the internet is literally everywhere). Your guidance as a parent can help kids deal with graphic content, even if you'd rather they weren't exposed to begin with, and what happens when your kids learn about sex from porn instead of you will truly make you want to start the conversation. Understanding the potential negative impact of pornography on a child's mental health can help you initiate the important conversations you might have been putting off until now.
Data suggests that people (children, teens, and even grown adults) use pornography to educate themselves about sex, explains Jessica O'Reilly, Sex & Relationship Expert and host of the @SexWithDrJess Podcast. The trouble is that porn isn't meant to be educational. It's designed for arousal and entertainment. What happens when the internet is your only sex ed teacher? Nothing good, according to O'Reilly. "Young people (and older folks too!) often pick up unrealistic messages from porn," she explains. Kids can come away believing that all bodies conform to the same ideal, and that sex acts are devoid of human connection. You also can't count on porn to portray sex that's hygienic, respectful, or even safe.
Of course, pornography is nothing new, but I think everyone can admit the tenor has changed, and not for the better. 50 years ago, porn was a still image of a naked centerfold tucked under a mattress, or an erotic novel passed from teen to teen. "This is in sharp contrast to the great abundance of hardcore, highly graphic videos available to anyone with a smartphone ... anytime, anywhere," Edward Bilotti, MD, board-certified psychiatrist and fellow of the American Psychiatric Association (APA), tells Romper. While anyone with a mature understanding of sex knows that much of porn is a gross exaggeration at best, and brutally dehumanizing at worst, kids don't have the tools to contextualize it. Nor can they separate fantasy from reality as easily as adults, according to Bilotti. For kids, stumbling on the worst the internet has to offer is like walking into a funhouse, without any awareness of the mirrors playing tricks.
The experience can be a traumatic one. As U.S. News reported, younger children often report feeling depressed at what they've seen. Exposure to disturbing material can lead to behavioral and sleep problems, confusion, fear, and possibly, mental health problems later on, according to Bilotti. He emphasizes that children should be taught about sexuality in thoughtful, age-appropriate ways, and that above all, "pornography must not be their teacher."
Fortunately, the negative impact of porn is offset by quality sex education, but it's critical to start the conversation early. "If you wait until they're teens, it's likely too late," explains O'Reilly. "The average age of first contact with online porn is estimated to be 11 years of age." She urges parents to explain that porn is fantasy, not reality. She also emphasizes the importance of creating a non-judgmental space around sexuality, so kids feel safe coming to you with their questions, doubts, and fear.
Having the "sex talk" just once isn't enough anymore (if it ever was). However uncomfortable you may feel, your kids need you to counterbalance pornography's misleading narratives.
"Explain that sexuality is part of a mutually loving and caring relationship between two people," says Bilotti, and make it known that your family's values about sex are very different from what they encounter in porn.
Kids are resilient, and they can handle a lot, but they need your help to develop a healthy attitude towards sex. Don't freak out if your kid winds up on a graphic site, by accident or on purpose. More than anything else, they need your adult perspective to understand the world around them, and your guidance in navigating its darker sides. For advice that isn't designed to freak you out, check out the nonprofit Educate and Empower Kids, and their level-headed recommendations on how to talk to kids about porn.
Check out Romper's new video series, Romper's Doula Diaries:
Check out the entire Romper's Doula Diaries series and other videos on Facebook and the Bustle app across Apple TV, Roku, and Amazon Fire TV.