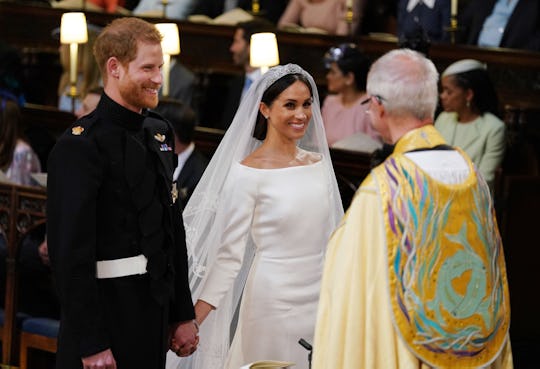 WPA Pool/Getty Images Entertainment/Getty Images
Here's What Prince Harry Whispered To Meghan Markle At The Altar
It's incredible how something so public can at the same time be so beautifully intimate. The Royal Wedding is a spectacle, but it's also a series of precious, personal moments, something that became immediately clear as the bride walked down the aisle, and her groom watched with such love. Just what did Prince Harry whisper to Meghan Markle at the altar? It's enough to make you believe in fairytale romance.
As the beautiful bride walked up the aisle to meet her groom, the look on that groom's face was truly moving. It's hard to believe that he knew there were millions of eyes on him, as he beamed at Meghan. Once she reached him, Harry leaned over to his truly stunning bride and seemed to whisper in her ear. I didn't quite see well enough to guess what exactly he said, but thankfully we can always turn to the sleuths of Twitter! And by all accounts, it seems like this totally twitterpated (see what I did there?) groom told his bride the words we all love to hear from the person we love — that she looks amazing. Hi, hello, are you still alive? Because I am pretty much dead from the sweetness of it all.
My heart, indeed!
It also seems that he whispered, "Hi," which is pretty much the cutest thing I have ever heard.
And, just in case you think this whispering was a one-sided affair:
But wait, it gets even better. Are you ready for this? I don't know if you are. I mean, I wasn't. I was not prepared. OK. Here you go...
According to The Daily Mirror's expert lip reader (oh what a time to be alive!) after they said hi and hi, the groom said, "are you okay?" (which is very sweet), and he said "you look amazing" (already swooning, check), and THEN Prince Harry said, "I missed you."
I missed you.
Honestly, for real, people, tell me that these two are not just an epically delightful bride and groom!
Though this adorable couple isn't following all the "rules" when it comes to a Royal Wedding, one old fashioned tradition that did they uphold was spending the night before the wedding apart from one another, reported Town and Country. Friday night, Meghan and her mom checked in to to Cliveden House, which Town and Country describes as "a stunning Relais & Châteaux in the Berkshire countryside with centuries of British history."
Meanwhile, Prince Harry and his brother, Prince William, checked into Coworth Park, which Town and Country calls "a luxury hotel between Ascot and Windsor where the brothers have played polo together before."
So, it had been at least, what, a day since Harry has seen his lovely bride? AND HE MISSED HER, PEOPLE!
It must be said though that this adorableness should come as no surprise, given all of the super sweet things this happy couple have said about each other. Just for one example, as PopSugar notes, during his engagement interview, Prince Harry said, "The fact that I fell in love with Meghan so incredibly quickly is confirmation to me that all the stars are aligned."
The stars!
In her October 2017 cover story for Vanity Fair, when taking about her then somewhat newly-public relationship, Meghan told the magazine, "We're two people who are really happy and in love."
It really doesn't get any better than that, does it? She added, "We were very quietly dating for about six months before it became news, and I was working during that whole time, and the only thing that changed was people's perception. Nothing about me changed. I'm still the same person that I am, and I've never defined myself by my relationship."
This down-to-earth approach seems like something that could certainly help Meghan cope with not only falling in love and getting married in the public eye, but carrying out the rest of her life as part of one of the most famous families in the world. If the wedding ceremony that marks their first day together as husband and wife is any indication at all, this is one couple who can count on making each other genuinely smile.