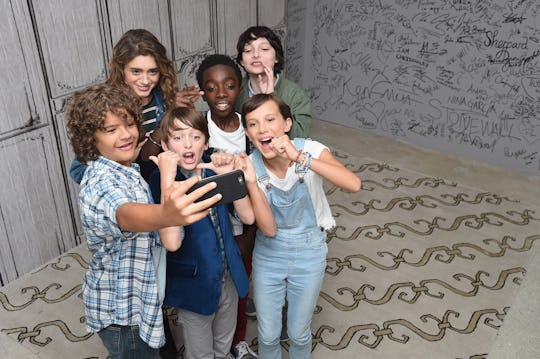 Michael Loccisano/Getty Images Entertainment/Getty Images
Here's What The Kids From 'Stranger Things' Look Like In Real Life
The latest Netflix Original Series, Stranger Things, took the internet by storm this summer, partly because it was headed up by Winona Ryder, but also because the cast of kids — who were relatively unknown until now — totally stole the show from the start. The show takes place in the 1980s, and the hair styles, fashion, accessories, and lingo are pretty true to form for the decade — but it has a lot of people wondering what the kids from Stranger Things look like in real life.
The young actors cast in most of the starring roles — Will, Eleven, Dustin, Lucas, and Nancy — weren't even alive in the 1980s. While most of them are recognizable even outside of their '80s garb, a few of them look totally different (is that really you, Barb?!).
Check out the list below to see what the cast looks like off the set, and if you haven't already watched it, the first season is available to stream on Netflix. Plus, the creators just confirmed the show is getting a second season — and there are already plenty of theories circulating about what exactly happened in the first season — and what might still be left to come for our young heroes.
Mike Wheeler, Played By Finn Wolfhard
Finn Wolfhard, who plays Mike Wheeler, is a middle schooler from Vancouver. He's also filming the remake of Stephen King's IT, set to hit theaters next year and starring Bill Skarsgård as the evil clown, Pennywise.
Eleven, Played By Millie Bobby Brown
Millie Bobby Brown has become America's sweetheart overnight for her role as Eleven, but it was a role she had some apprehensions about taking on. Eleven's head is shaved, and in pre-production Brown and her parents were worried about shaving off her long, brown hair. But the director told Brown to imagine herself as Charlize Theron in Mad Max. She did and, though her parents were worried that she wouldn't get roles if she shaved her head, they clearly don't have to worry: Eleven will be back for Season 2 of Stranger Things.
Dustin, Played By Gaten Matarazzo
The lovable, goofy Dustin is played by Gaten Matarazzo, born in New Jersey, who was actually the one to suggest to the show's creators that his character have a line about his unique condition. The 13-year-old has a condition called cleidocranial dysplasia, so his teeth haven't fully come in yet. In the show, his character Dustin explains this to playground bullies in a memorable scene:
Lucas, Who's Played By Caleb McLaughlin
Caleb McLaughlin isn't just an actor, he's also an accomplished dancer. He's studied dance at the Harlem School of the Arts under Aubrey Lynch, the school's dance director and a producer for broadway hits like The Lion King. Maybe in Season 2 Lucas could get a dance solo?
Nancy, Played By Natalia Dyer
Will's older sister Nancy is played by Natalia Dyer, an American actress who got her start with Disney, like many young actors today do. Her first movie role? Alongside Miley Cyrus in Hannah Montana: The Movie, when she was a pre-teen.
Steve, Played By Joe Keery
Well... minus the '80s wardrobe choices, Joe Keery actually looks just like his character, Steve Harrington (it's the hair). Before he nabbed a role in Stranger Things, Keery had guest spots on more contemporary shows like Chicago Fire.
Jonathan, Played By Charlie Heaton
Charlie Heaton, who plays Jonathan Byers, actually still has more or less the same expression as his character on Stranger Things, but the actor is apparently escaping any typecasting. His next role is opposite Naomi Watts in the upcoming thriller Shut In, where he plays Watts' son, who was paralyzed in an accident.
Barb, Played By Shannon Purser
SPOILERS AHEAD! The internet went wild over Barb, Nancy's friend who disappears into the Upside Down, never to be seen again — such an injustice. The actress who plays her, Shannon Purser, doesn't look a thing like her beloved, be-speckled character.
Just because she disappeared from Stranger Things doesn't mean she's disappearing from acting, though: she just landed a lead role in Riverdale, a new show from the CW. So maybe there was a little justice for Barb after all?