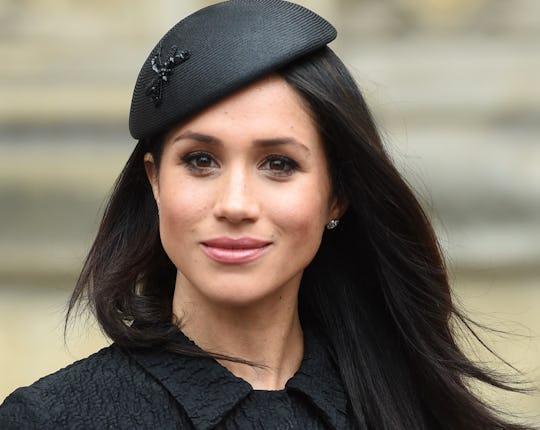 WPA Pool/Getty Images Entertainment/Getty Images
Here's Who Could Walk Meghan Markle Down The Aisle In Her Dad's Absence
The days leading up to a bride's wedding are not the time to say or do anything that may even remotely affect the carefully-decided plans she's likely spent months working on, but that seems especially true when the bride happens to be marrying into the British royal family. On Tuesday, Meghan Markle's dad, Thomas Markle, told TMZ he wouldn't actually be attending his daughter's wedding, despite previously agreeing to walk her down the aisle. That has to be majorly upsetting, but here's who could walk Meghan Markle down the aisle instead if she decides she wants to choose a last-minute replacement.
Though Meghan seems super close to her mother, Doria Ragland, her relationship with her father's side of the family certainly seems a bit more complex. Earlier this week, Thomas came under fire for allegedly posing in a series of staged paparazzi photos, according to CNN, a move Meghan's older half-sister, Samantha Markle, has claimed was her idea. Yet Thomas told TMZ that he will actually be missing the wedding because he is scheduled to have surgery following a reported heart attack last week, and though Meghan hasn't commented on her father's health, Kensington Palace did release a statement Tuesday saying that Meghan and Prince Harry "ask again for understanding and respect to be extended to Mr. Markle in this difficult situation."
Although it's not entirely clear exactly what the story is, or whether Thomas really won't be attending the wedding, if he has backed out, then Meghan may want someone to fill in on her father's behalf. And if she does, she has a few options:
Doria Ragland
While a bride is traditionally expected to walk down the aisle with her father (Kate Middleton's father, Michael, walked her down the aisle at her 2011 wedding), Meghan's mother seems to be the most obvious choice if her dad isn't going to be there. Not only is she family, but she and Meghan are also super tight: In August 2017, Markle gushed about her mom to Glamour, telling the mag that they have "so much fun together," and that she can "find so much solace in her support."
Prince Charles
If Meghan wanted to go with a more traditional (read: male) pick, her future father-in-law, Prince Charles, might make sense. After all, the two will soon be family, and though Prince Charles never had a daughter to give away at her wedding, he has had some practice in the role: according to Harper's Bazaar, Prince Charles accompanied Alexandra Knatchbull down the aisle at her 2016 wedding, on behalf of her father (and Prince Charles' close friend) Norton Knatchbull, 3rd Earl Mountbatten of Burma. Though it might be unconventional for a royal wedding, it would be pretty sweet for Prince Charles to offer his support.
Prince William
Prince William may have already committed to being Prince Harry's best man, but given how close the two brothers are, it doesn't seem like Harry would mind if he gave up the job in favor of accompanying his soon-to-be wife. And it definitely seems like Meghan would be comfortable with her future brother-in-law — they've already appeared at public events together, and are said to get along really well.
(Plus, since he's already planning on being in the wedding, having him walk her down the aisle would also be a pretty convenient choice)
Patrick Adams
This will almost certainly not happen, but how great would it be if Meghan's Suits co-star (and on-screen husband) Patrick Adams were to give her away? Though Adams hasn't confirmed whether he will be in attendance at the wedding, other members of the cast, including Gabriel Macht and Sarah Rafferty appear to be in Europe, according to People, suggesting that Meghan has in fact invited her former co-stars to her wedding.
As unexpected as it might be that Meghan's dad won't be the one walking her down the aisle, she wouldn't actually be the first royal bride to be accompanied by someone else: according to Town & Country, Prince Philip walked Queen Elizabeth II's sister, Princess Margaret, down the aisle at her wedding in 1960, since her father, George VI, had died.
Of course, there's absolutely nothing keeping Meghan from simply walking down the aisle by herself. Even though it would be quite out of the ordinary for a royal wedding, Meghan seems more than capable of doing things her own way. And having an escort down the aisle at her wedding shouldn't at all be something she should have to worry about.