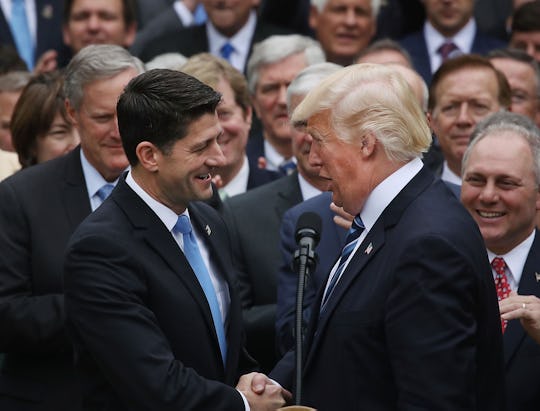 Mark Wilson/Getty Images News/Getty Images
A Shockingly Low Number Of Reps Support The New AHCA
Even though the latest draft of the GOP's plan to repeal and replace Obamacare — officially known as the American Health Care Act — has not been released to the public, Senate Republicans are reportedly trying to push it through in a matter of weeks. It's certainly appalling that there are no set plans for the nation to see what kind of health care it could have before it goes to a vote, but what's even more shocking is who supports the new AHCA and how low that number actually is.
At the moment, Senate Republicans are working to finish their draft health care bill and hope to vote on the bill before they take recess on July 4, according to Axios. The latest version is said to have an 80 percent chance of passing in the Senate — even though much of the details included in it have remained out of the public eye and only 13 senators have reportedly been working on it.
"We are still in discussions about what will be in the final product so it is premature to release any draft absent further member conversations and consensus," an aide told Axios.
Whether it will be released to the public in the coming weeks is still a mystery. Vox reported that it could be voted on "without any committee hearings, expert testimony, or public debate."
So who supports the AHCA and who will be be responsible should it pass later this summer? According to the Center for American Progress, these are the Senate Republicans who could jeopardize millions of people's health care. The Center also provided phone numbers to call so you can tell these conservative lawmakers not to approve the new bill — especially if the public doesn't get a chance to see it.
Even if your state is not on that list, you should still reach out to your local senator because it's important every voice and every concern is heard regarding the fate of health care coverage. Not sure how to find it? Check out Refinery 29's super simple widget to help locate the contact info for these congresspeople.
As for the American public, only 20 percent of voters say they are more likely to vote for a senator or member of Congress who supports the AHCA, according to a poll from Quinnipiac University released last week. The same poll found that 62 percent of Americans disapprove of the Republican's bill (or the last form of the bill that was public), while 66 percent are unhappy with President Donald Trump's handling of the nation's health care.
These poor approval ratings are probably because the Congressional Budget Office predicts that the AHCA would cause 23 million people to lose insurance by 2026, according to The New York Times. Additionally, insurers would be allowed to apply for a waiver to opt out of covering essential health benefits in order to charge higher rates for those with preexisting conditions — something that 70 percent of Americans oppose, according to a survey conducted by Langer Research Associates.
With so much at stake for so many Americans, it's truly concerning that Senate Republicans have no plans to publicly release their final draft of the AHCA — especially since much of the nation is not on board with it.