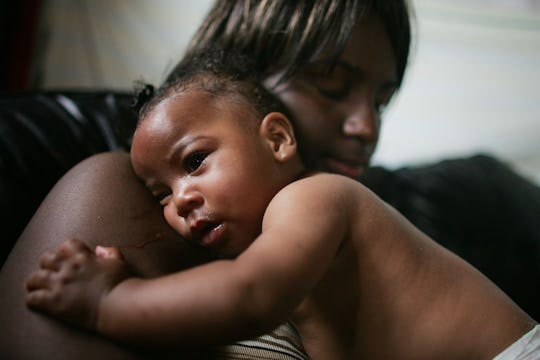 Mario Tama/Getty Images News/Getty Images
The Unjust Reason Black Mothers Are Less Able To Breastfeed
It's probably safe to say that the most satisfied kind of mother out there is a happy, healthy mother. Someone who has options, community support, and is able to make educated choices about how she would like to raise her baby. In 21st century America, one would think this description encapsulates most groups of parents. Unfortunately, a recent report by the Centers for Disease Control and Prevention found that was not the case. Specifically, the report uncovered several alarming reasons why black mothers can't breastfeed as much as other women.
The CDC looked at racial and geographical breastfeeding trends over a four year period, from 2011 to 2015. Researchers considered women in 34 states and tracked their breastfeeding statistics through the National Immunization Survey (NIS), specifically looking at breastfeeding initialization, exclusive breastfeeding until the age of 6 months, and whether or not mothers were continuing to breastfeed until 12 months. The study found a significant difference in the number of black women who were exclusively breastfeeding for the first six months in comparison to white women (a full 10 percent difference) who were doing the same. The reason for the disparity? According to the CDC:
Certain barriers are disproportionately experienced by black women (e.g., earlier return to work, inadequate receipt of breastfeeding information from providers, and lack of access to professional breastfeeding support) .
The report also noted that the lack of support for black mothers begins at the hospital. Zip codes with a higher black population were less likely to "meet five indicators for supportive breastfeeding practices (early initiation of breastfeeding, limited use of breastfeeding supplements, rooming-in, limited use of pacifiers, and post-discharge support), than those located in areas with lower percentages of black residents," the report concluded.
This is a serious problem, not just for babies but for their mothers. The American Academy of Pediatrics recommends exclusive breastfeeding for the first six months of a baby's life. Breastfeeding is hugely beneficial to both mother and baby, when possible. It protects babies from potential infection, reduces the risk of ovarian and breast cancer for mothers later on in life, and also aids in less postpartum bleeding. Not to mention the emotional benefits of bonding with your baby through breastfeeding and the fact that it is environmentally friendly (zero waste, of course). The fact that black mothers are disproportionately less able to breastfeed their babies because of socio-economic factors and lack of postpartum support is unconscionable.
So how do we go about effecting change, and supporting black mothers who want to breastfeed their babies? Several organizations are already in existence to combat the disparity between black and white mothers and their breastfeeding support. EMPower Breastfeeding: Enhancing Maternity Practices, is an organization supported by 93 hospitals across the country. It is funded by the CDC, and works at the hospital level to encourage breastfeeding support. Another organization, Black Mothers Breastfeeding, is a not-for-profit dedicated to "making a national impact on the reduction of racial disparities in breastfeeding success for black families." The organization provides education, resources, and continued support to black families who would like the opportunity to breastfeed.
Because parenting is supposed to be about making informed, supported choices. Not trying to parent your way around external limitations.