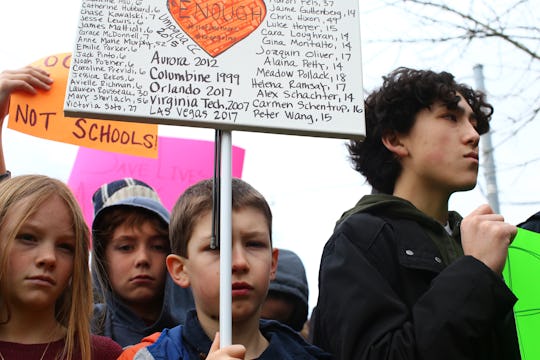 Karen Ducey/Getty Images News/Getty Images
Here's Why Kids Wore Orange During The National School Walkout
Exactly one month after the tragic high school shooting in Parkland, Florida, students across the country took to the streets to protest gun violence in the United States and send a message to lawmakers. Beyond the powerful chants the students voiced and the inspiring signs the teens and children were holding, you may have noticed kids were wearing orange on National Walkout Day, too. It wasn't just a coincidence; there's an important reason they chose to wear this color.
At the National Walkout on March 14, many students were spotted wearing orange, which is the color that's representative of the anti-gun violence movement, according to Wear Orange, an anti-gun violence organization. In fact, wearing orange has been a symbol to raise awareness about ending gun violence for some time now.
Back in 2013, a 15-year-old teen named Hadiya Pendleton was shot and killed in Chicago, according to the Chicago Tribune. In the aftermath of her death, Pendleton's friends wore orange to honor her, according Wear Orange, and they had good reason to choose that color. Orange is what hunters wear to protect themselves; not from wild animals or swarms of bees. Rather, hunters wear orange to protect themselves from other hunters so they're not mistaken for game and shot. "Orange is a bright, bold color that demands to be seen," as Wear Orange put it,
Students wearing orange during the National Walkout will likely help amplify the organization's message: "Orange expresses our collective hope as a nation — a hope for a future free from gun violence."
Students Organized & Took A Stand On March 14
The students, many of whom wore orange on Wednesday, who participated in the National Walkout all left their school buildings for precisely 17 minutes, to honor the 17 people killed at Marjory Stoneman Douglas High School in Parkland, Florida last month, according to CNN. But students didn't just wear orange; many also used the color in other creative ways to symbolize their hope to end gun violence. From flowers to ribbons to balloons, orange was everywhere on National Walkout Day.
Students all over the nation participated in the National Walk Out and are hoping that these peaceful demonstrations will send a clear message to Congress to impose safer gun laws. One Stoneman Douglas freshman, 15-year-old Heather Taylor, agreed, as she told NBC News, "I just hope we can get better gun control. I hope that happens. I hope people see we're really trying and we're not going to stop."
In another school now synonymous with gun violence, Columbine High School, 16-year-old Kaylee Tyner, posed an important question, according to The New York Times:
We have grown up watching more tragedies occur and continuously asking: Why? Why does this keep happening?
From students wearing orange, to students releasing orange balloons, and people watching at home wearing orange as well, the message seems to be clear: Enough is enough.
The March For Our Lives, organized by the survivors of the Parkland shooting echoes this sentiment. "Communities across this country walked out of classrooms to send one message – Enough," their response read, according the demonstration's website. It continued:
We have seen enough senseless gun violence; we have lived in fear too long. We have buried too many heroes. We demand better. Today was wonderful. Today was important. Today was historical. But sadly, today was not enough. Paid supporters of the NRA will blame us for being naive and entitled when the only thing we seek is to feel safe.
"The longer that they have to defend their stance, the louder the demand for change becomes because the truth outshines excuses. This should not happen in our great nation," the statement concluded.
The kids are changing the country, one orange-coated walk-out at a time.