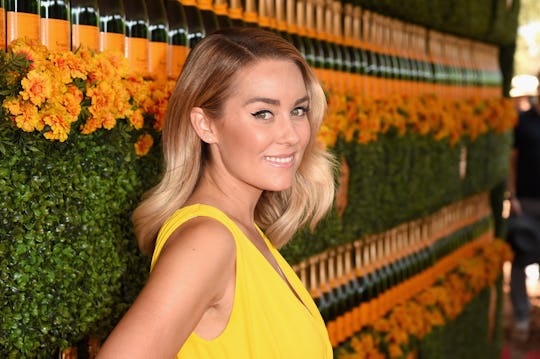 Jason Merritt/TERM/Getty Images Entertainment/Getty Images
Here's Why Lauren Conrad's Son Probably Won't Be On Reality TV
On July 5, Lauren Conrad gave birth to her first son, Liam James Tell. Hills fans were especially excited by the news, and some people wondered if Conrad would ever consider a return to reality television to showcase her life as a mom. According to People Magazine, Conrad has no plans to feature Liam on reality TV, and she doesn't want him to follow in her reality TV footsteps when he gets older. Given Conrad's love-hate relationship with The Hills and Laguna Beach, the reason why Lauren Conrad's son won't appear on reality TV makes total sense.
Once Conrad left The Hills in 2010, she became incredibly guarded about her personal life. Considering Conrad spent four intense years under the glare of television cameras, it's no wonder why she decided to remain fairly private about her post-Hills milestones, including her wedding to William Tell in 2014 and when she gave birth to Liam in July. Now that Conrad's new mantra is all about privacy, she doesn't plan to do any more reality television about her personal life. Conrad said, according to People Magazine:
I don't think I'm doing any more reality television that includes my personal life.
As for Liam, Conrad revealed she won't encourage him to pursue a career in reality TV. Conrad said, according to Refinery29:
It's not something I would encourage. But I want to support him.
Although some fans might label Conrad as an overprotective mom, her desire for Liam to remain off-screen goes much deeper than that. Conrad said about her reality TV experiences, according to Marie Claire:
I only ever got to tell half my story. People are very quick to judge these days, especially behind the anonymity of a screen name. It's very easy to say, 'I hate her, I hate what she wore, she seems mean.' But you're only seeing a small fraction of her life.
It's clear that Conrad often felt defined by her persona on reality TV, and that it limited her ability to be her authentic self. Although Conrad didn't explain precisely why she doesn't want Liam on TV, it's reasonable to assume she wants Liam to carve out his own path in life. Not only is reality TV daunting for a person's self-esteem, but it's also easy for a star to get lost in an audience-driven narrative. If anyone knows the pitfalls of reality television firsthand, it's Conrad.
In 2016, Conrad also praised her "super-boring" life, and how it was nice that the tabloids had "forgotten" her since leaving The Hills. Conrad said, according to Vanity Fair:
They've kind of forgotten about me, and it's fantastic. There's perks to being super-boring, and I'm really enjoying that.
Despite Conrad's long career in front of the cameras, she has always preferred a life behind-the-scenes. It makes sense that Conrad would also want Liam to enjoy a "boring" life away from the spotlight, and for him to have a childhood full of private memories.
Obviously, there are plenty of kids that do just fine growing up in front of the cameras. In Conrad's case, however, she has an insider perspective on reality TV that makes her hesitant to showcase Liam's life to millions of viewers. Regardless of whether Liam will choose to appear on reality television when he's older (Laguna Beach: The Second Generation, anyone?), it's clear Conrad will do one thing: she'll at least allow him to make that choice for himself.