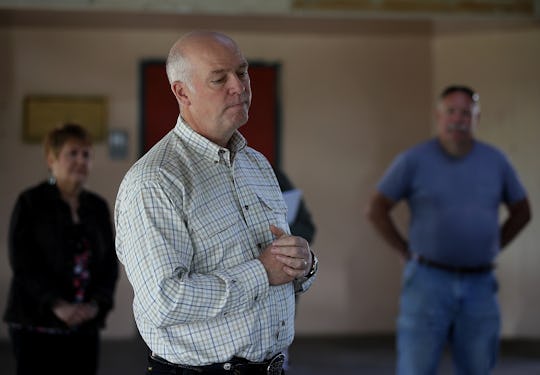 Justin Sullivan/Getty Images News/Getty Images
Montana's Special Election Is Crucial
It goes without saying all elections are important. The United States learned this lesson the hard way when President Donald Trump won the presidency over Hillary Clinton in 2016, right? Special elections, however, present a unique chance to change the tide after sobering general elections in November. This is why Montana's special election is so important, especially since the GOP candidate, Greg Gianforte, was just charged with a misdemeanor for allegedly assaulting a reporter. Gianforte's representatives did not immediately respond to Romper's request for comment on the matter.
Remember Georgia's special House election back in April? If you followed that race closely (which is actually still ongoing), then you already know a lot about Montana's special election on May 25. Similarly to Georgia, the opposing candidate, in this case, Independent Rob Quist, is making significant fundraising gains and generating a lot of positive buzz in what is, historically, a Republican stronghold. Numbers aside, you can assume this is true based on Vice President Mike Pence's trip to Montana a few weeks ago, according to U.S. News & World Report. It's generally not typical for a major politician to pull out all the stops for a candidate they're undoubtedly confident about. If Gianforte loses on Thursday, it signals bad things to come for the GOP in 2018, according to FiveThirtyEight. A loss in Montana would prove Republicans are in fact suffering the consequences of a Trump presidency and from their unpopular repeal of the American Health Care Act, according to The Hill.
If Republicans aren't nervous enough, things just became a lot more tense on Wednesday night after Gianforte was charged with assaulting Ben Jacobs of The Guardian. In an even wilder twist, reporters from Fox News were the ones to witness and later report on the violent exchange. Fox reporter Alicia Acuna claimed Gianforte "slammed" Jacobs to the ground after he asked repeated questions about the Congressional Budget Office report on the AHCA.
According to Fox News, Acuna said:
Faith, Keith and I arrived early to set up for the interview in a room adjacent to another room where a volunteer BBQ was to take place. As the time for the interview neared, Gianforte came into the room. We exchanged pleasantries and made small talk about restaurants and Bozeman. During that conversation, another man — who we now know is Ben Jacobs of The Guardian — walked into the room with a voice recorder, put it up to Gianforte's face and began asking if he had a response to the newly released Congressional Budget Office report on the American Health Care Act. Gianforte told him he would get to him later. Jacobs persisted with his question. Gianforte told him to talk to his press guy, Shane Scanlon. At that point, Gianforte grabbed Jacobs by the neck with both hands and slammed him into the ground behind him. Faith, Keith and I watched in disbelief as Gianforte then began punching the reporter. As Gianforte moved on top of Jacobs, he began yelling something to the effect of, 'I'm sick and tired of this!'
The audio of the altercation can be heard below:
Jacobs also tweeted about the incident:
Following the unbelievable events, Gallatin, Montana County sheriff Brian Gootkin announced there was enough evidence to charge Gianforte with a misdemeanor for assault. Gianforte is expected to appear in court on June 7, according to a release from the department.
Gianforte's spokesman Shane Scanlon gave a statement to the the New York Times about the alleged incident with Jacobs:
After asking Jacobs to lower the recorder, Jacobs declined. Greg then attempted to grab the phone that was pushed in his face. Jacobs grabbed Greg's wrist and spun away from Greg, pushing them both to the ground.
Unfortunately, FiveThirtyEight reported that two-thirds of the votes were submitted before Wednesday's alleged assault. It's discouraging to think votes were cast prior to Gianforte's disturbing display of aggression. It's important to note, however, that Montana newspapers like the The Billings Gazette, The Missoulian, and The Helena Independent Record have all rescinded their support of Gianforte. It's at least refreshing to see a politician receiving some swift consequences for his actions.
Gianforte's drama aside, his opponent Quist is keeping things positive on Twitter. All of Quist's tweets have centered around urging constituents to exercise their right to vote.
Although it remains unclear who will win the race at this point, the stakes of this special election are incredibly high. Not only is the vote important due to Gianforte's alleged crime, but it also presents an opportunity for Montana's constituents to demand real change in the House. If the state rejects Gianforte, it's sending a strong and pointed message to the GOP.