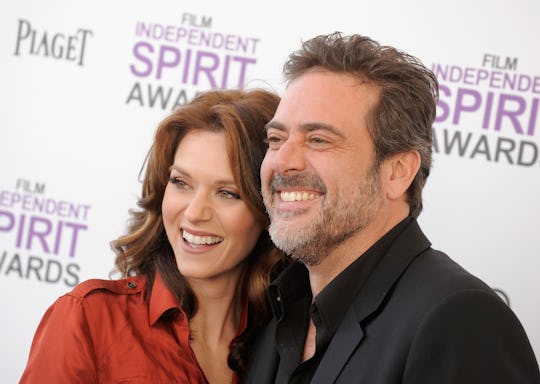 Jordan Strauss/Getty Images Entertainment/Getty Images
Hilarie Burton & Jeffrey Dean Morgan Welcome Baby No. 2, & They're Keeping A Low Profile
It turns out there's another soon-to-be walker out there, but this one is an adorable bundle of joy. On Thursday, The Walking Dead's Jeffrey Dean Morgan just welcomed baby number two with wife Hilarie Burton, your favorite #tbt from One Tree Hill, but the couple is keeping quiet on the details for now. Morgan tweeted out an acknowledgement of well-wishes for "baby gal Morgan," but stopped short of revealing his daughter's name, according to E! News.
Morgan's tweet read: "Hey y'all... baby gal morgan is spectacular. We just respecting her wishes for laying low a bit longer. But we super appreciate all the well wishes n stuff. Thank you. Xojdhilgusandbabygal." And you could be forgiven for reading a Southern accent into the short and sweet announcement.
The couple confirmed back in September that Burton was pregnant with their second child when the 35-year-old actor revealed her baby bump on the 2017 Emmy Awards red carpet.
They didn't reveal the baby's sex at the time, but Morgan accidentally spilled the beans a week later during a Supernatural convention in New Jersey, Page Six reported. A fan in the audience ended up snapping a picture of a red-faced Morgan, who posted it on his Instagram account.
Morgan captioned the Instagram post in part:
Whoever took this picture?? Caught a moment... thank you. We shall cherish.... I texted @hilarieburton right after I spilled the little girl beans... and, as usual... she was a rockstar. After all these years she's come to expect me to be a dope... thank god she gets it, and loves me regardless.
Burton and the 51-year-old Walking Dead star, who married four years ago, are already parents to 7-year-old son Augustus, who they've nicknamed "Gus." Morgan told E! News back in October that the trio is "excited" to welcome the new addition to their family, but Gus may have certain ideas about the distribution of toys. The former Supernatural actor said:
I think for Gus, he's just hoping that means different toys that the baby will have as opposed to his. And I tried to tell him that, 'No, whatever you play with, that baby's gonna want.' But we're excited.
As a middle child of a sibling trio, I get Gus' point-of-view completely. I know I wasn't exactly thrilled about having to share my toys with my younger sister when she came along. I mean, what sibling is, really?
When Burton and Morgan got together in 2009, many fans seemed surprised by their relationship, according to PopSugar. But the pair actually has a really cute origin story that starts with the family business. (Yes, I made a Supernatural reference. Yes, you can judge me.)
At the time Morgan and Burton met, they weren't exactly running in the same actor circles. But the pair were separated by six degrees: Morgan was chummy with Supernatural co-star Jensen Ackles, who was in a relationship with now-wife Danneel Harris, Burton's co-star on One Tree Hill, PopSugar reported. Ackles then took it upon himself to set Morgan and Burton on a blind date once both actors found themselves single.
Morgan told HuffPost Live in 2015, according to PopSugar:
I happened to be single and Jensen said, 'I've got a girl you should meet. So I went to a bar and I met Hilarie at a bar with Jensen and Danneel, and the rest is history.
The Walking Dead actor later added that he convinced Burton to visit him in New Mexico, where he was shooting the film, The Resident, according to Pop Sugar. He said:
I talked her into, instead of going to Paris, to come and see me in New Mexico. And I ruined her life and now she's stuck with me.
A marriage and two kids later, I'd say that's a happy ending.
Check out Romper's new video series, Bearing The Motherload, where disagreeing parents from different sides of an issue sit down with a mediator and talk about how to support (and not judge) each other's parenting perspectives. New episodes air Mondays on Facebook.