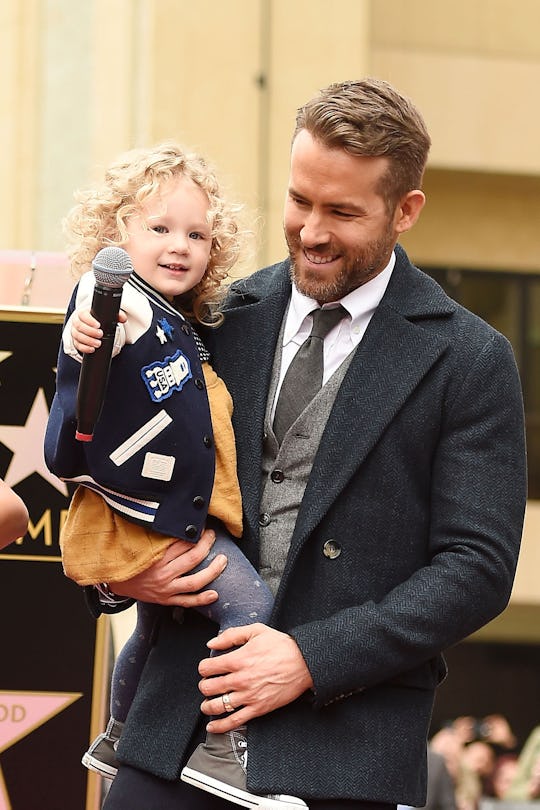 Matt Winkelmeyer/Getty Images Entertainment/Getty Images
Hilarious Ryan Reynolds' Quotes On Parenting
He's well-known for being hilarious in his movies and on Twitter, but this collection of Ryan Reynolds' quotes on parenting show that he's also a pretty funny dad with an amazing sense of humor about all the messy things babies bring — like diapers and boogers — and his witty outlook on parenting is so relatable. But, underneath all of his jokes, it's clear that the father-of-two has a real soft spot for his little girls, 2-year-old James and 2-month-old Ines, and it makes us love him even more. And now that he and his wife Blake Lively recently became parents to James' little sister, Ines, the parenting community can only hope that his comedic material will double in hilarity.
Although the notoriously private parents have kept many details about their daughters to themselves, fortunately not everything about their kids has been off limits. In fact, the actor gave fans a sneak peak at the kind of comedic gems to look out for as his daughters get closer and older.
"Well, they look alike," he said during a recent interview with Entertainment Tonight. "You can see that she's sort of a little mini version of our older girl. But, no, it's great. It's like an actually cohesive, working, functioning family. It's amazing to see my older daughter taking care of my younger one. The Lion King was right! The circle of life exists."
Without further ado, let's have a look at some of Reynolds' best quotes on fatherhood.
On Time Management
During a recent red carpet interview at the Critics' Choice Awards in Los Angeles, the funny dad revealed what it's like to get ready for events like this with two kids at home. "I don't have time for anything — I'm amazed I remembered pants!" he joked, according to People.
On Keeping A Poker Face
Kids are inspiring and change your life, but they're also exhausting and give parents plenty of challenges on a daily basis. Reynolds tweeted about this exact conundrum. "Nothing better than spending an entire morning staring into my baby daughter's eyes, whispering, 'I can't do this,' he wrote on Twitter.
On Trust
Passing off your newborn to anyone, even your own mother, can be a nerve-wracking milestone. But, Reynolds eventually realized that his mom has done this whole baby thing before.
"Early on I saw my mom handle the baby, and my heart jumped into my throat because she was just handling her like a piece of meat!" he said, according to People. "Then I realized, 'Oh, this is a person who knows her way around a naked eight-pounder and is not slightly terrified.'"
On The Magical Moments
During an interview with Jimmy Fallon on The Tonight Show in 2015, Reynolds revealed that James' calls both mom and dad "mama."
"She's saying mama," he said in the interview. "My wife doesn't realize though that she calls me mama, too. I had to literally sit [James] down and tell her penises don't work that way...she understands. She gets it."
On Honesty
Reynolds' honesty on his daughter's artistic ability is hilariously refreshing and most parents can relate. "My daughter's only 6 months old and already drawing," he tweeted. "I'd hang it on the fridge but honestly, it's absolute garbage."
On The Gross Moments
Any parent knows that babies can be real gross and Reynolds isn't afraid to share how disgusting parenting can actually get. "My daughter just sneezed into my yawning mouth," he wrote on Twitter. "Seemed really f*cking pleased with herself. Joke's on her. She'll have to bury me someday."
On Bed Time
Every parent has their own way of getting their kids to go sleep when they just refuse. And Reynolds tactic took it the next level. "I'm teaching my daughter that the sun goes down each night because it's mad at her," he wrote on Twitter. "Probably gonna write a book on parenting at some point."
Finally, On Embarrassing His Girls
It's clear that Reynolds has thought about how all of his hilarious parenting moments may one day come back to haunt him and his daughters. "Because as we know, little girls turn into teenage girls and little teenage girls sometimes scan through the archives and go, 'Why did you do that?'" he said, according to People.
The 40-year-old actor's outlook on parenting is certainly entertaining. But if one thing is for sure, it's that James and Ines are two of the luckiest kids alive to have a dad like him. But, they better be prepared for the dad jokes come out and the embarrassment to intensify as they get older.