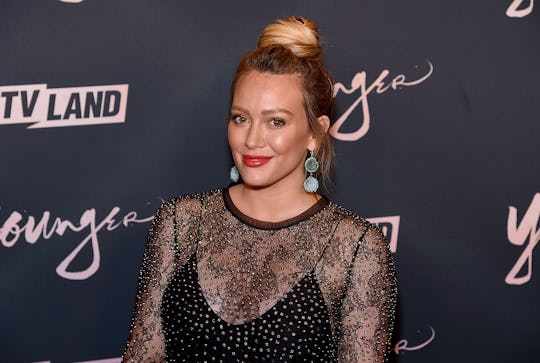 Jamie McCarthy/Getty Images Entertainment/Getty Images
Hilary Duff Apologizes To Her Boyfriend For The Sweetest Reason Possible
Being pregnant in the summer, when it's hot and everyone is walking around looking all not-pregnant, is sort of the worst. You're tired, you're hot, you're always hungry. Well I guess that's sort of a description of being pregnant any time, but still; August pregnancies are rough. Unless, that is, you happen to have a partner who is willing to scour the streets hunting down your cravings for you. That, my friends, is gold. Which is why I thought it was adorable when Hilary Duff apologized to her boyfriend for the sweetest reason possible; she sent him out looking for candy, and it was tougher than she thought it would be.
The Younger actress and her boyfriend, singer Matthew Koma, are expecting their first child together later this year, a baby girl. Duff is already mom to 6-year-old son Luca with her ex-husband, Mike Comrie. The couple first announced their pregnancy back in June with a sweet picture on Instagram of Koma kissing a smiling Duff on the cheek with the caption, "Guess what guys! @matthewkoma and I made a little princess of our own and we couldn't be more excited!!!!!!" And now it seems, that little princess needs to be fed. Some very specific candy, actually.‌
‌Duff shared a short (and very dark) clip of Koma coming back from an apparent candy-hunting expedition. He can be seen wearily handing her boxes of Good & Plenty candy "not to be confused with Mike & Ike" he said as though someone might have already made it clear that this was an important distinction. Perhaps a pregnant former Lizzie McGuire star? Most definitely, because Duff said in response "Mike & Ikes suck" which probably means she can say goodbye to getting an advertising gig from them. ‌
‌Koma, who Duff refers to as "my dealer" in the Instagram Story, also noted that he found the candy "six stores later." Duff laughs and says, "Babe, I'm sorry." But any woman who has been pregnant knows that her mind is most likely already on that sweet, sweet candy. Besides, I feel certain that Koma didn't mind going to six different stores to track down licorice candies for the woman who is carrying his daughter in the least, right?
That's not to say Duff wasn't grateful, I'm sure. In fact, she seems to be all about the gratitude these days. Last Friday she posted a video of herself cradling her baby bump and literally smelling the roses growing at her home with the caption:
Can't help but imagine this little girl is growing and blooming in my belly like these roses that keep popping up at our house. Pregnancy is filled with so much emotion and some really tough long days but it sure is special. Feeling lots of love today with every movement and kick to the bladder lol. Appreciate that this one picked Matt and I to be her mommy and daddy. We gunna crush it for you baby B. You also have the sweetest big* brother waiting to meet and love you
No wonder Duff is feeling supremely blessed these days; she has a sweet little 6-year-old son at home, a baby girl on the way, and the sort of boyfriend who is willing to visit six different stores in order to find her the right sort of licorice candy. She even has a sister, actress Haylie Duff, who just welcomed her second daughter in June, which means the cousins can be built-in best friends. And perhaps best of all? Duff is fully stocked up on Good & Plenty candy. Six boxes should last her at least a day, which means she's good to go.‌