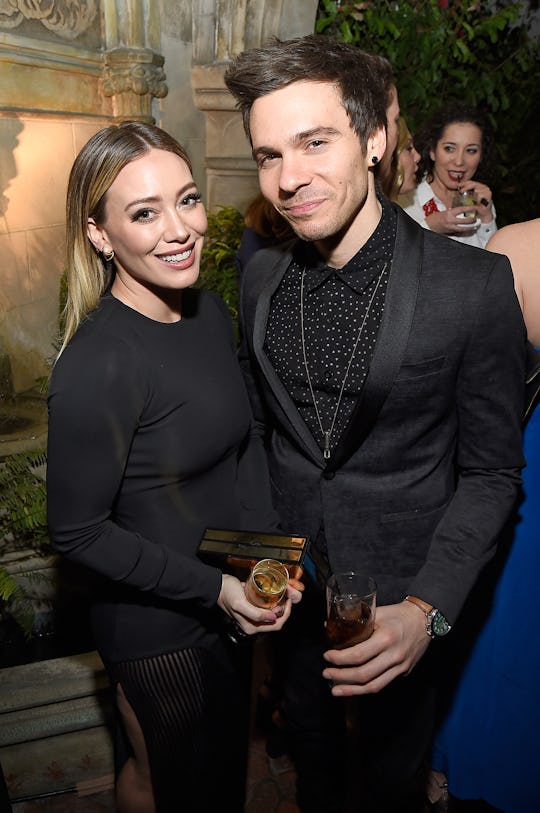 Matt Winkelmeyer/Getty Images Entertainment/Getty Images
Hilary Duff Just Welcomed Her Baby Girl, & Here's Everything We Know So Far
Hilary Duff being a mom of just one kid is "So Yesterday." After months of waiting, Hilary Duff gave birth to a baby girl on Oct. 25. Duff and her boyfriend, musician Matthew Koma, shared the exciting news on Instagram.
Duff shared a sweet family shot of herself with Koma and their new baby girl and both new parents look so in love.
"Banks Violet Bair❤️ this little bit has fully stolen our hearts! She joined our world at home on Thursday afternoon and is absolute magic ✨," the actress and singer captioned the photo.
Many fans shared sweet messages of congratulations for Duff and Koma on social media.
"So excited for the whole family!! The name is perfect. Congrats mama!! 😘," one wrote.
"Congratulations to your beautiful family!! So happy for you love! She's precious!! 🙏🏼💖 @hilaryduff," another added.
"Huge congrats to the beautiful growing family 💗💗💗," yet another fan said.
Duff's baby daughter is Koma's first child, and the actress' second. Duff and her ex-husband, former hockey player Mike Comrie, welcomed a son named Luca Cruz Comrie on March 20, 2012, according to CBS News. Over the years, Duff has posted many photos of Luca, who is now 6, on Instagram, and still does regularly. It's clear that the mother and son have a special bond. Here's hoping that means Duff will post more photos of her baby girl soon!
Koma and Duff first announced that she was pregnant in early June. "Guess what guys! @matthewkoma and I made a little princess of our own and we couldn't be more excited!!!!!!🤰🏼👶🏼🎀," Duff wrote on Instagram, alongside a picture of Koma kissing her cheek. In case that didn't imply "it's a girl" enough for you, Koma posted the same photo on Instagram, captioned, "We made a baby girl! She will be as beautiful and sweet as her mother... @hilaryduff another incredible chapter begins."
A few weeks later, they shared the way they found out their baby's sex with the world. Duff posted a video from the sex reveal party that she and Koma had on Mother's Day this past May.
In the video, the couple and their friends and family shot off party poppers to reveal a pink explosion. Alongside the video on Instagram, Duff wrote:
A few months ago we had one of the most exciting Mother's Day! Filled with amazing friends, family, mothers, and neighbors❤️ It was such a fun surprise! I can't think of any other way to find out what was cooking in my belly than this..... the anticipation was brutal but the pay off was huge! I basically jumped 3 feet off the ground lol 💖 #hurryuplittlegirlwewanttomeetyou
Since announcing her pregnancy, Duff has kept fans posted with updates on her growing baby girl. Earlier this month, she shared a Boomerang to Instagram of herself cradling her bump and sniffing a flower (quite literally smelling the roses).
In the caption, she opened up about her emotions about welcoming a daughter. She wrote:
Can't help but imagine this little girl is growing and blooming in my belly like these roses that keep popping up at our house. Pregnancy is filled with so much emotion and some really tough long days but it sure is special. Feeling lots of love today with every movement and kick to the bladder lol. Appreciate that this one picked Matt and I to be her mommy and daddy.
She concluded the post, "We gunna crush it for you baby B. You also have the sweetest big* brother waiting to meet and love you❤️💖."
Just as her fans have shared, a huge congrats to Hilary Duff and Matthew Koma on their beautiful baby girl!