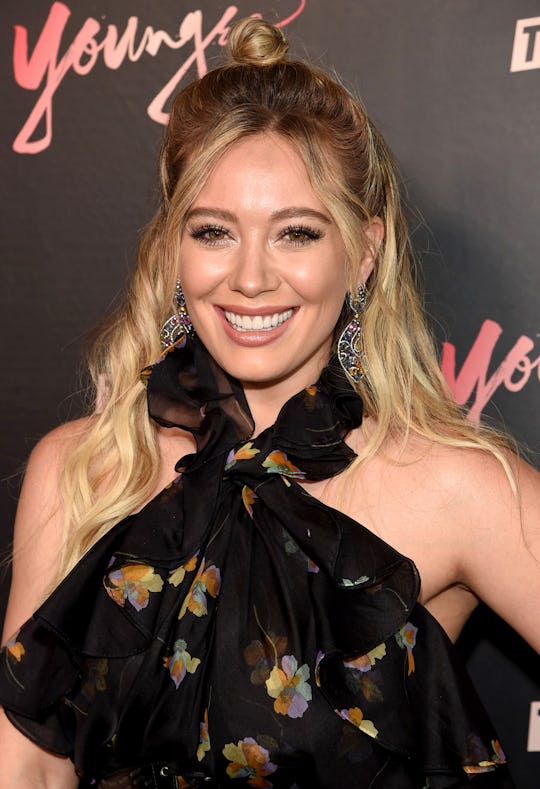 Jamie McCarthy/Getty Images Entertainment/Getty Images
Hilary Duff Found An Adorably Useful Hack With The Help Of Her Pregnancy Bump — PHOTO
When you're well into the second and third trimesters of your pregnancy (and hey, even the first for some women) your stomach distends enough to become like another appendage. There's so much you can utilize your stomach for, like holding your cereal bowl, or resting your arms. But Hilary Duff's creative hack using her pregnancy bump is probably the cutest and totally useful thing you'll see all day.
Duff took to her Instagram Story to share a photo of herself sitting back in what appears to be a car, with a book opened in her lap. If you look closely, you'll notice that it's actually her stomach that's holding the book open. "Bookmark belly," she wrote on the photo.
Back in June the actress and singer shared the happy news that she and boyfriend Matthew Koma were expecting their first child together. "Guess what guys! @matthewkoma and I made a little princess of our own and we couldn't be more excited!!!!!!🤰🏼👶🏼🎀," Duff captioned announcement post. On his own page, Koma shared the same photo, adding: "We made a baby girl! She will be as beautiful and sweet as her mother... @hilaryduff another incredible chapter begins." Duff is already a mother to Luca Comrie, whom she shares with ex-husband Mike Comrie, according to People.
Though her due date has not been disclosed, Duff has been somewhat candid about the fact that she's ready for her baby to get here. In an interview with People, Duff opened up about how she's grateful to have another child to focus on so she's not obsessing over every detail of her pregnancy, as it's so easy to do the first time around.
"Honestly, I feel really good and I am a little over it at this point where I am like, 'Cool, I'm ready, when is it happening?'" she told the magazine. "But it is awesome to have another kid to focus on because you're not constantly focusing on every little ache and pain you feel or anything that happens. I am not on Google right away like I was the first time around. I know what is going on."
Just a month ago, Duff also shared some supportive words for fellow moms going through tough pregnancies. "The boobs are big the belly is big the body is big. Man... pregnancy is hard," she wrote on Instagram. She continued:
Giving love to all mamas who make it look effortless... this journey is hard as hell and also incredibly special. Lovely to have a little life inside and to day dream of all the new adventures to come buuuut almost impossible to get my own shoes on..sick of getting up 9 times a night to pee and looking at this weird body in the mirror that is not my own at the moment. Women are so bad ass, this was just a note to remind myself and remind others how's strong and beautiful you are!
Though nothing has been confirmed, many have recently been speculating that Duff has taken her relationship with Koma to the next level, after an Instagram post of her sporting a certain ring left many people wondering whether or not the two tied the knot. People reported Duff took a photo of herself smiling, with her hand in front of her face, showing off a gold and diamond band on her left ring finger. "This vintagey looking sparkly number from @foxandbond has me smiling today," she wrote. Many fans began responding to inquire about her relationship status, and even her sister Haylie Duff said she was confused: "Ummm I thought this was something else," she commented on the photo.
Regardless of where their relationship is at, it's clear that Duff and Koma are intent on building a happy life with their growing family, and getting to follow along — bump hacks and all — is so, so exciting.