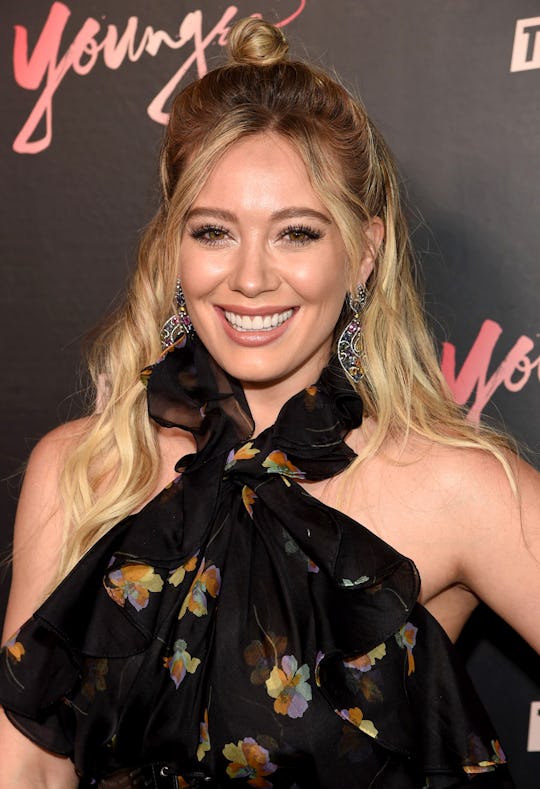 Jamie McCarthy/Getty Images Entertainment/Getty Images
Hilary Duff Is Hoping This Legendary Salad Will Induce Labor With Baby No. 2
I gave birth to my son a week late. He decided he wasn't ready to make his appearance on his due date... or the day after, or the day after that. So my doctor decided the best course of action would be to speed labor along — because, let's be honest, pregnancy can stink, and I didn't want to carry that belly around any longer. That's why I can't scoff at the fact that Hilary Duff hopes a certain salad will induce labor with her second baby. Sure, the food-based exit strategy may not work, but you can't blame a person for trying.
Before I get into the weeds about this reportedly magical labor-inducing salad, let me refresh your memory about Duff's pregnancy. TheYounger star announced back in June that she's expecting her second child, a girl — and first with her boyfriend, singer and songwriter Matthew Koma. Her baby girl is due any day now, and Duff obviously can't wait for her 6-year-old son, Luca, to meet his little sister.
Which circles back to the maternity greens. On Sunday, the 31-year-old actor posted to her Instagram Story a photo of a salad from Caioti Pizza Cafe in Studio City, California that reportedly induces childbirth, according to E! News. Duff captioned the photo, "This salad is supposed to make you go into labor...@caioti_pizza don't let me down."
No news if Duff has gone into labor yet. But the so-called maternity salad she ordered does have quite a legacy — one that spans more than two decades.
So what is in this Caioti salad that causes babies to evacuate the womb? It's apparently all in the house-made balsamic vinaigrette, according to LA Weekly. The ingredients that make up the salad are basic: Romaine, watercress, walnuts, and gorgonzola. But the vinaigrette, made with basil, sun-dried tomato, extra virgin olive oil, and vinegar, reportedly contains a mix of spices that can get labor going, as LA Weekly reported. The contents of that herb blend, however, remains under lock and key by the owners.
Even the staff has no idea what magical spices are put into the vinaigrette because they've had to sign confidentiality agreements, according to Scary Mommy. As a Caioti Pizza employee told E! News:
We do have a salad that supposedly makes people go into labor. They say it's in the dressing, which is just a balsamic and there are special herbs that make women have contractions and go into labor. None of the servers know what exactly is in the "special herbs" mix, only the kitchen knows.
And apparently there's truth to the legend of the $14 "labor salad." The employee said of Caioti's dish, according to E! News: "It's true that women have eaten this salad — called The Salad — and gone into labor, it's what Caioti Pizza is known for. There is a whole baby board on the wall and there are at least 15-20 pregnant women a day who come in to order the salad."
If I were pregnant and living in California, I would absolutely not try this salad... because I am allergic to nuts and the walnuts would kill me. But that weren't the case, I would so pull a Duff and chow down in hopes my (hypothetical) baby would make their way to the exit. I remember carrying my now-toddler son, and it wasn't a fun experience — at all. So anything to help the cause, I'm down for.