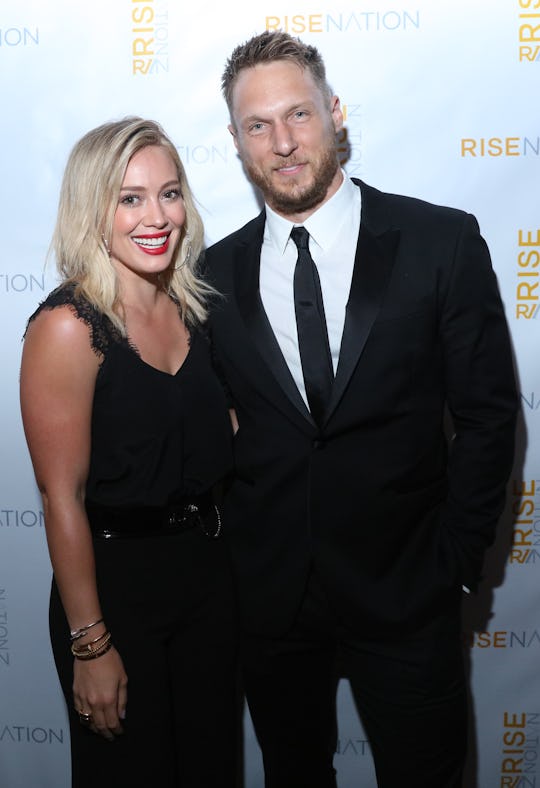 Mark Davis/Getty Images Entertainment/Getty Images
Hilary Duff's & Boyfriend's Halloween Costumes Were Not Okay For So Many Reasons
Hilary Duff and her new beau made their public debut as a couple over the weekend... and, in doing so, characterized their new relationship as one marked by a searing racial insensitivity. The former child star showed up to a private Halloween party in Beverly Hills dressed as a pilgrim, a questionable choice made even more egregious by the fact that her date, Jason Walsh, was sporting faux Native American garb. And the photos from the night quickly went viral, with exasperated social media users emerging, yet again, to explain, yet again, why culturally appropriative stunts like Hilary Duff's and her boyfriends's Halloween costumes are not OK, ever, under any circumstances. Period.
The most striking aspect of this ill-advised couple's costume, of course, is Walsh's gaudy red feathered headdress, and that alone is enough to have earned all the criticism the couple has garnered. Because for a lily-white fitness coach to dress up as a Native American is just plain racist, considering the way that indigenous people in the United States have been marginalized, murdered, displaced, and forced to assimilate by white people throughout history, as Mic.com's Brianna Provenzano explains. But, then there's the added element that Duff, was by his side as the oppressor embodied, smiling with a basket of corn in hand.
Romper reached out to Walsh and a representative for Duff for comment, but did not immediately hear back.
Framed in the historical context that still affects so many Native Americans in this country today, the idea that the pilgrim and the Native American could be considered a "couple's costume" would be laughable if it weren't so infuriating. And there's no excuse for Duff and Walsh to be completely ignorant of the racist implications of the Halloween costumes.
Activists and people whose identities racist costumes attack have been warning against dressing up as a geisha, a black "thug," a Mexican in a sombrero — any cultural appropriation or reference to damaging stereotypes — for years. In 2011, students at Ohio University launched the visceral and incredibly effective "We're A Culture Not A Costume" campaign, because of the giant Halloween block party that takes place just off campus each year. "We feel that culturally appropriative costumes alienate and exotify certain students on our campus, and [we] wanted to educate people on the harmful effects of enforcing negative stereotypes of minorities," Mailé Nguyen, who's now the president of the student group responsible for the posters that show exactly how not to dress for Halloween, and the effect careless costumes have on minorities and other stigmatized groups, told NBC News.
The costumes are perhaps even more offensive given that the couple wore them at the same time that Native Americans in North Dakota are protesting the construction of a oil pipeline they believe could contaminate their water supply as well as destroy their sacred ancient burial and prayer sites. In many ways, the struggle of the Standing Rock Sioux tribe is emblematic of the centuries of mistreatment of indigenous people in this country, and for a white couple to cavalierly dress up as a Native American and a pilgrim trivializes and mocks that — even if that's not what Duff and Walsh intended.
In an illuminating Twitter thread, Black Lives Matter activist Brittany Packnett used the situation as an opportunity to call out all people who wear costumes like these, pointing out that she believes people who let their friends wear such costumes are just as culpable, and musing that having "no repercussions for racism," contributes to this shameful phenomenon.
She pointed out that some people who employ this type of racism feel divorced from what they do and how it affects other people.
Hilary Duff and Jason Walsh should apologize for their costumes, and commit themselves to getting educated about why what they did was not OK, even if it seemed like harmless fun. They can use their public platform to help to get the word out to others so that maybe, maybe next Halloween will be a little less racist.