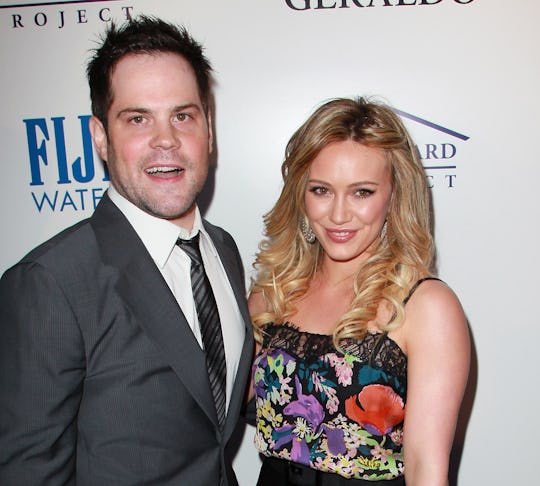 David Livingston/Getty Images Entertainment/Getty Images
Hilary Duff Has Sage Advice About Co-parenting
Whether we like it or not, co-parenting is the new reality for many of us. So maybe it's time to shed a little light on the situation, rather than wishing things could go back to the way they were in the "olden" days. The end of a relationship doesn't have to mean the end of all forms of said relationship, especially when you are sharing a child. That's why Hilary Duff's co-parenting comments are so refreshing — because she and ex-husband Mike Comrie might have ended their marriage, but that doesn't mean she can't continue to share a little love and respect for the father of her son.
Duff and ex-husband Comrie, a former NHL hockey player, broke up in 2014 after three years of marriage. Even in the early days of their split, Duff was positive and kind about Comrie and the love she continued to feel for him. She told Cosmopolitan in an April, 2015 interview:
It wasn't working well enough to stay together, but there was still a lot of love involved. It was just a slow set-in of us not being the match that we used to be. I'm lucky for the person he is and I am and how we decided to handle this.
The couple share a four-year-old son, Luca Cruz, and have made him a priority in one seriously important way: They're still nice to each other. Duff opened up about Comrie to Cosmopolitan in a recent interview:
Mike's amazing … We're so ingrained in each other's lives. I wouldn't choose anyone else to coparent with. We are really good friends and care a lot about each other.
The Younger actress went on to date Rise Nation Fitness personal trainer Jason Walsh for a few months in 2016 and has been single since their breakup. Duff told Cosmo that she doesn't really see herself as a "dater" and that she "never want[s] to be that girl who's desperate to find a mate."
But her relationship with Comrie, as her co-parenting partner, has remained a constant in her life. The pair even enjoyed a dinner out without their son in Los Angeles in December. They have taken little Luca to Disneyworld together, and are well known in Hollywood for never saying a disparaging word about the other person. While there has been speculation that the couple might be getting back together (because how could divorced parents possibly be nice to each other if they weren't looking to reconcile, right?), during an appearance on The Talk in December, 29-year-old Duff had this to say about her life right now:
I was 22 when I got married. I'm now divorced, I have a 4-year-old — I wouldn't change any of it for the world.
Clearly, she is wise well beyond her years. And she could teach us all a thing or two about how to co-parent.