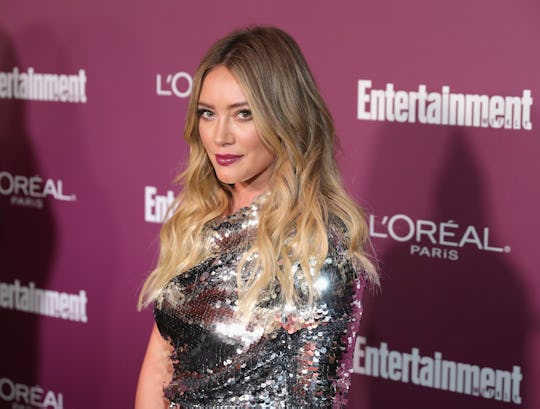 Neilson Barnard/Getty Images Entertainment/Getty Images
Moms Are Loving Hilary Duff's Beautiful Metaphor About Pregnancy
Hilary Duff surprised fans with a cute and heartfelt pregnancy announcement via Instagram in June. Duff said at the time that she and her boyfriend, Matthew Koma, "couldn't be more excited" about the news, and their happiness tripled when the couple learned they'll welcome a baby girl sometime this winter. Still, as much as Duff is openly psyched to become a mom again, she hasn't been shy about the lows of pregnancy either. In an Instagram post from July 25, Duff complained about her "big" boobs, belly, and body, a sentiment many expectant parents out there probably can relate to. Luckily for Duff, however, her pregnancy blues didn't last for too long. Case in point: Hilary Duff shared a gorgeous metaphor about pregnancy on Saturday that perfectly sums up her journey thus far.
In the years before Duff shared her thrilling baby news, she was in a bit of a transition period. Duff finalized her divorce from retired hockey player Mike Comrie in February 2016, and the exes had to put their differences aside to co-parent their now 6-year-old son, Luca. Duff also experienced a few breakups in the years following her divorce, including one with Koma. Yep, the expectant parents reportedly broke up in April 2017 before getting back together in October 2017. Translation: Life hasn't always been straightforward or easy for Duff.
And while one might assume Duff has somewhat of a jaded perspective on things because of her past experiences, this probably couldn't be farther from the truth. Want proof? Look no further than Duff's beautiful metaphor about pregnancy, and her positive message about the future. Duff captioned a boomerang video of herself sniffing roses in her garden on Instagram:
Can't help but imagine this little girl is growing and blooming in my belly like these roses that keep popping up at our house. Pregnancy is filled with so much emotion and some really tough long days but it sure is special. Feeling lots of love today with every movement and kick to the bladder lol. Appreciate that this one picked Matt and I to be her mommy and daddy. We gunna crush it for you baby B. You also have the sweetest big* brother waiting to meet and love you❤️💖
Aww. What a perfect way to describe the magic of pregnancy. It's so wonderful to see Duff enjoying all of the changes her body and baby are going through at the moment, despite the fact that there are some tough days. Pregnancy is a lot of work, to put it mildly, but at the end of it you walk away with a rose (or roses for the parents of multiples out there).
Not to mention, it's heartwarming to hear how Duff's life has settled into such a loving place. After years of twists and turns, Duff is set to welcome her first daughter with a man she clearly loves. It doesn't get much better than that, does it?
Of course, I'm not the only one who is touched by Duff's message. Many fans took to the post's comments section to compliment Duff's sweet metaphor, honesty, and her growing family.
"Such a beautiful way to describe being a parent!" one person commented on Instagram.
"Omg. This is so beautiful," another fan added. "Can't wait for you to have such an amazing addition to your family."
And one particularly impressed person penned:
Love how open and honest you are about the fact that not every moment of pregnancy is magical and amazing. I struggled with it big time because I just hated it. I never understood those who say they loved it but to each their own. It's refreshing to see even someone with unlimited resources and all the help in the world to get through those long exhausting days still has their tough moments as well.
Ah yes, everything is coming up roses for Duff these days. Here's to your beautiful and special journey, momma.