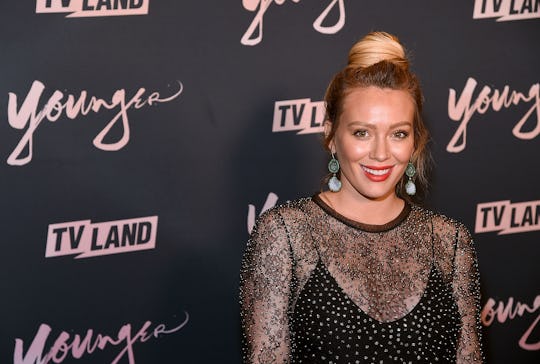 Jamie McCarthy/Getty Images Entertainment/Getty Images
Moms Will Appreciate Hilary Duff's Honest Pregnancy Update
As much as I love seeing celeb pregnancy updates, their gorgeous, glowing photos rarely resemble the sweaty, swollen mess that I was for most of my own journey towards motherhood. Fortunately, not all famous mamas make their pregnancies look like a walk in the park. Telling it like it is, Hilary Duff's pregnancy post got real about the struggles of pregnancy and moms everywhere rejoiced at her honesty. As beautiful as pregnancy can be, it's nice to know that you're not the only one who has it rough!
Back in June, Duff and her boyfriend Matthew Koma announced the happy news of her pregnancy and shared the sex of the baby, all in one wonderful Instagram post, according to E! News. The photo showed Koma planting a kiss on Duff's cheek with the caption, "Guess what guys! @matthewkoma and I made a little princess of our own and we couldn't be more excited!!!!!" The post quickly racked up thousands of comments, many of which were well wishes and congratulations. Koma shared the same photo to his own feed, as Cosmopolitan reported, writing, "We made a baby girl! She will be as beautiful and sweet as her mother... @hilaryduff another incredible chapter begins."
The former Lizzie McGuire star is no stranger to motherhood, as she shares a 6-year-old son Luca with her ex-husband, Mike Comrie. Duff told People that little Luca was "surprised" by the news at first, but is quickly coming around to the idea of being a big brother. Meanwhile, mama is doing some adjusting of her own as she deals with the trials and tribulations that come with growing a little human inside of you.
Duff posted another photo to Instagram on Thursday showing her growing belly. Along with an update on how she was looking, she also shared how she was feeling. The boobs are big the belly is big the body is big. Man.. pregnancy is hard," she wrote. "Giving love to all mamas who make it look effortless... this journey is hard as hell and also incredibly special."
She went on to explain that while pregnancy is "lovely," it is also rather difficult. From your changing body to your disrupted sleep schedule, it's not all cute selfies and shopping for baby clothes:
Lovely to have a little life inside and to day dream of all the new adventures to come buuuut almost impossible to get my own shoes on..sick of getting up 9 times a night to pee and looking at this weird body in the mirror that is not my own at the moment.
She's not wrong about the challenges that pregnant women face. A number of moms voiced their solidarity with her struggles. One wrote, "I needed this! 😘 It really is no joke! Amazing what our bodies can do! Create new life!" While another said, "So happy to see that I'm not alone!!! Pregnancy is HARD! Why did no one warn me bahaha... can't wait for our baby!"
I, too, can remember not recognizing myself in the mirror because my face, arms, legs, and feet were so swollen I looked like the Jiffy Puff Man. Other women experience symptoms like crippling morning sickness, the terror that is "lightning crotch," and sciatica pain that I wouldn't wish on my worst enemies. But, as Duff points out, women are strong.
Along with expressing her frustration, she ends her post with some female empowerment that is seriously what dreams are made of. "Women are so bad ass," she wrote. "This was just a note to remind myself and remind others how's strong and beautiful you are! WE GOT THIS!" Amen, sister!