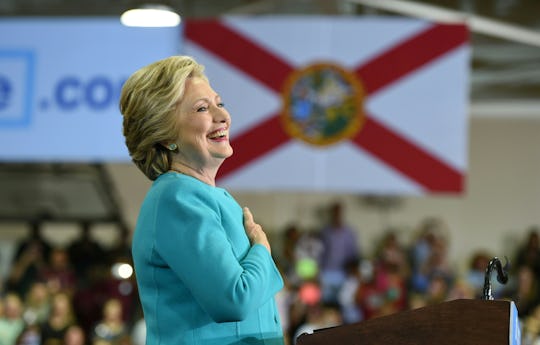 ROBYN BECK/AFP/Getty Images
Hillary Clinton Birthday Tweets That Show She's Winning Voters Over
No one is immune from the sheer joy of saying, "it's my birthday!" and getting a round of cupcakes and cards and texts and Facebook posts from friends you don't even remember making. No one. If you don't believe it, these Hillary Clinton birthday Tweets prove that even a presidential candidate likes to bask in the glory of Birthday Love. And in the middle of a busy campaign season, a little celebration and frosting are welcome breaks from the madness (and we all know how much she and Bill love balloons).
Clinton turned 69 today and she's been feeling the love from all over. Her campaign especially has been pushing the birthday theme by asking supporters to sign a virtual card — and give the campaign a chance to ask for a little dough in the run up to Election Day, of course. Business is business.
Clinton's campaign tweeted a "happy birthday" to the candidate, too, which struck some people on Twitter as a little odd. But then again, I go around announcing my birthday to anyone who will listen — neighbors, the grocery store clerk, and of course, the bartenders — so who's to judge about what's appropriate or not? A lot of celebs and voters have spent the day Tweeting their own b-day messages and best Clinton dancing GIFs throughout the day as well.
Here are some of the highlights:
Friends In High Places
...And From Her Supporters
Clinton got a lot of hate early on in her campaign for not being "personable" and winning voters over with her charm. But since the Democratic National Convention, she's somehow wormed her way into supporters hearts and her birthday Tweets show that a lot of people would like to party down with her on her big day. Or at least vote for her.
Actually, I'm a little annoyed at the Birthday Candidate for stealing my two big birthday dreams: to go on stage with Adele and meet Stevie Wonder. On Tuesday night, Clinton was an Adele show and was called up on stage with the British singer, who endorsed her. The "Hello" singer told fans, "I am English, but what happens in America affects me too. I am 100 percent for Hillary Clinton. I love her; She's amazing." Sure, Adele can't vote, but she has more mass appeal than Clinton will ever have, so it's kind of a BFD for Clinton's HBD.
On Wednesday morning, Clinton also stopped by The Breakfast Club at iHeart Radio and sat down with Stevie Wonder, who serenaded her with his version of "Happy Birthday," which, as everyone knows, is the best version ever.
Between the early votes, the love from celeb endorsers, and Stevie Wonder, this could go down as the best birthday ever for the candidate.