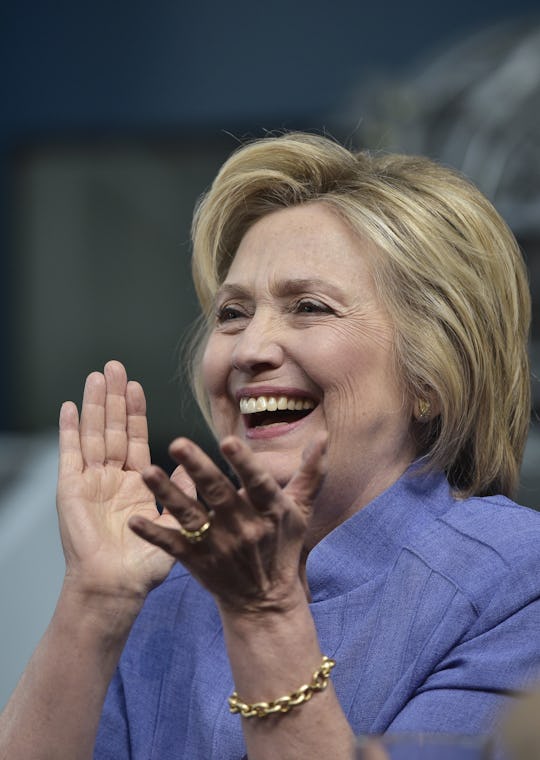 MANDEL NGAN/AFP/Getty Images
Hillary Clinton Shared A Photo With Her New Grandson, & It's A Super Sweet Moment
Chelsea Clinton and her husband Marc Mezvinsky welcomed their second child, a little boy named Aidan, into the world Saturday morning, and excitedly announced his birth on Twitter one day later, writing that their "family and hearts expanded with [his] arrival," according to Us Weekly. Aidan's birth may have been the best Father's Day present Mezvinsky could have possibly received this year, but the couple aren't the only ones over the moon — presumptive Democratic presidential nominee Hillary Clinton shared a photo with her new grandson on Twitter Sunday, proving that, while she could potentially be the new POTUS come November, she's also just one totally smitten grandmother.
In the photo, also shared on Hillary Clinton's official Facebook page, she and her husband, former president Bill Clinton, can be seen sitting together cuddling with their newest grandchild. Hillary posted the tweet, along with the caption, "What a joy being with our new grandson, Aidan. So grateful. -H." Bill Clinton also posted a sweet snap of his own to Twitter, a photo of himself and son-in-law Mezvinsky with baby Aidan, along with the caption, "Aidan has made two dads very happy this Father's Day. Hillary and I are thrilled for Marc and Chelsea!"
Aidan is the second grandchild for the Clintons, arriving almost two years after the birth of Clinton and Mezvinsky's first child, Charlotte Clinton Mezvinsky, in 2014, according to CNN. The couple wed in 2010, but had actually first met as teenagers, as they both came from prominent political families (Mezvinsky's parents are former U.S. members of Congress, Ed Mezvinsky and Marjorie Margolies-Mezvinsky). After Charlotte's birth, Hillary spoke about the joy she felt after becoming a grandmother for the first time, saying, according to The Telegraph,
Until it happened to me, I just could not understand the impact. It is truly like falling in love all over again. There is nothing like it...And it has for me been an absolutely life-changing experience.
Professionally, Chelsea's main role these days is as vice president of the Clinton Foundation, a non-profit organization focused on global health, climate change, and growing opportunities for women and girls around the world. But anyone who has been following her mother's presidential bid knows that she has also been active on the campaign circuit throughout her pregnancy, supporting Hillary as she fought against Vemont Sen. Bernie Sanders for the Democratic nomination. Chelsea's last appearance before giving birth was at a fundraiser in New Jersey ahead of the primary June 7, according to NBC News.
Chelsea announced her second pregnancy on Twitter in December, posting a sweet photo of Charlotte looking at a book about big sisters, along with the caption,
Next summer, Charlotte is going to be a big sister! Feeling very blessed & grateful this holiday season.
As much as Aidan's birth was the focus of Father's Day for the Clintons this year, Bill still got a sweet throwback shout out from Hillary's Twitter account, by way of an adorable family photo featuring the couple along with a very young Chelsea, and Donald Duck. Adorable.
I think it's pretty safe to say this year is shaping up to be a pretty great one for the entire Clinton clan.