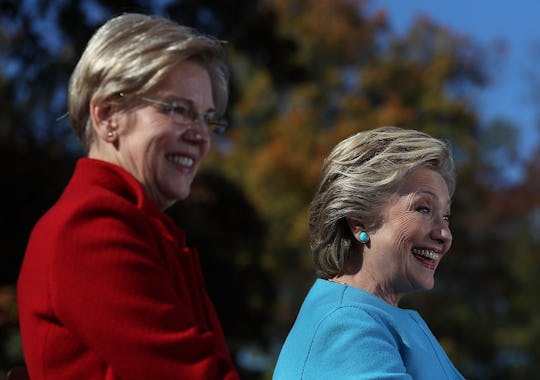 Justin Sullivan/Getty Images News/Getty Images
Hillary Clinton Speaks Out About Elizabeth Warren
Sen. Elizabeth Warren from Massachusetts has done her research. During the confirmation hearings for President Trump's incoming Cabinet, she has made not only her own voice, but in effect, the voices of millions of people heard. She has been questioning potential lawmakers with dogged determination and clear-eyed focus about how their decisions would effect the average American and how this country would move forward. On Tuesday night she was silenced on the Senate floor by Senate Majority Leader Mitch McConnell. The response to her silence has been immediate. On Wednesday, Hillary Clinton spoke out on Elizabeth Warren's silencing by sharing McConnell's quote about Warren, and it looks to have the markings of a true rallying cry.
Warren was speaking on the Senate floor in regards to the impending confirmation of Alabama Sen. Jeff Sessions as the next attorney general. There have been serious questions about Sessions, in particular his stance on civil rights. Speaking to that, Warren was in the midst of sharing a letter written about Sessions 30 years ago by the widow of civil rights hero Martin Luther King Jr., Coretta Scott King. She was silenced by McConnell during her reading, as he felt the letter was "impugning" a fellow senator. McConnell said,
Sen. Warren was giving a lengthy speech. She had appeared to violate the rule. She was warned. She was given an explanation. Nevertheless, she persisted.
And while I believe it's safe to say that McConnell meant this as a warning, when former presidential nominee Hillary Clinton shared his comment, it's clear the statement has quickly come to mean something entirely different for silenced women of power everywhere.
Clinton was the first female presidential nominee. She was the Secretary of State under former President Barrack Obama, the first lady when husband Bill Clinton was president, an activist, a lawyer, and the governor of New York. Yet somehow, an argument could be made that she lost the election to an unqualified real estate mogul named Donald Trump because she was a woman. So she might understand a little something about being silenced. And how to we combat this wall of silence? By stepping up and speaking out when those who are fighting for our cause cannot.
Warren continued to try to share the words of Coretta Scott King.
Then, Vermont Sen. Bernie Sanders, New Mexico Sen. Tom Udall, Ohio Sen. Sherrod Brown, and Oregon Sen. Jeff Merkley spoke up for Warren. They each stood on the Senate floor to read excerpts from Coretta Scott King's letter about Sessions, of whom she wrote in 1986, when he was looking to be approved as a federal judge:
Mr. Sessions has used the awesome power of his office to chill the free exercise of the vote by black citizens in the district he now seeks to serve as a federal judge.
Clinton may not have become the first woman President of the United States, but that does not mean she will be silenced. She wouldn't be silenced when she was harassed and badgered and told not to practice the law, or when she was warned away from getting into politics.
And neither will Warren. Because if a woman of that strength and power can be silenced... what does that say to the millions of women who feel they have no voice?
Nevertheless, we persist.