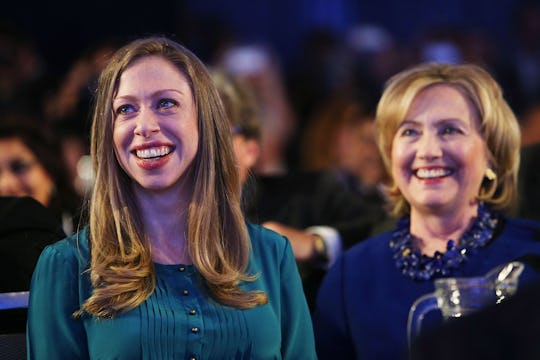 Hillary Clinton Tweets About Chelsea Clinton's Pregnancy, Proving She Has Even More To Look Forward To In 2016
We already knew that next year, 2016, would be a busy year for Hillary Clinton. After all, the former Secretary of State and frontrunner Democratic candidate for the presidency has a schedule chock full of debates, appearances, and, well, basically anything that will help her clinch the vote come November 2016. But her family now has another to-do to add to the list, as former (and future?) first daughter Chelsea Clinton announced she's pregnant with her second child. And based on Clinton's response to Chelsea's pregnancy, the candidate is more than happy that the to-do list has expanded. And that her family will expand as well.
Following the announcement about Chelsea's baby with husband Marc Mezvinsky — the couple already has one daughter, 1-year-old Charlotte — Clinton took to Twitter to express her excitement for the birth of her second grandchild. And it's hard to believe she would be anything but excited, based on what the candidate has said about her experiences with her first grandchild. As she told People in April about being a grandmother "It will affect my being, not just my thinking. I hope grandfathers feel the same way, I know my husband does."
And read Clinton's tweet about Chelsea below:
And Clinton was certainly smart to point out the importance of talking about grandfathers too while talking to People. The candidate, after all, has had to face sexist commentary surrounding Charlotte's birth, with many suggesting a grandmother is too old to be president. (Despite the fact that many, many male presidential candidates in the past have also been grandfathers.)
And, at the very least, Clinton's husband, Bill Clinton, is excited to talk about Chelsea's second child as well. As he tweeted shortly after the announcement on Monday:
Question is: Will they all fit inside the White House?
Image: Spencer Platt/Getty