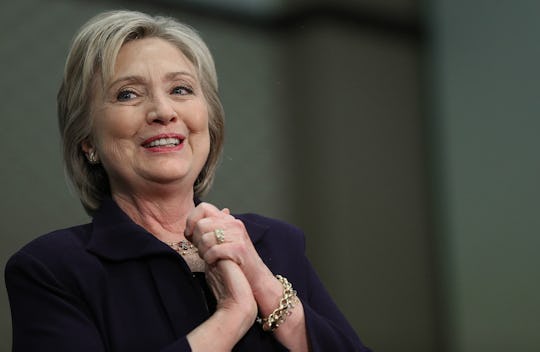 Win McNamee/Getty Images News/Getty Images
Hillary Clinton Wins South Carolina Primary
According to exit polls, former Secretary of State Hillary Clinton is projected to win the South Carolina primary on Saturday. Even though polls closed at 7 p.m local time Saturday night, exit poll data strongly predicts Clinton handily winning over fellow Democrat, Vermont Sen. Bernie Sanders. In a statement released by his campaign, Sanders said, "I congratulate Secretary Clinton on her victory in South Carolina."
Clinton's win in South Carolina comes as no surprise as she was had as much as 22 point lead over Sanders in a mid-February poll by Bloomberg Politics. Clinton was also heavily favored among African American voters in South Carolina. According to CNN exit polls, more African Americans voted in the South Carolina primary on Saturday, accounting for six out of every 10 voters — exceeding the 55 percent Democratic primary voter turnout by African Americans in 2008. CNN also reported that 84 percent of those voters supported Clinton over Sanders. Despite this, overall voter turnout in South Carolina was "very low" according to CNN's political commentator S.E. Cupp who also noted that "This, in part, is how Hillary Clinton was able to win so handily. High turnout benefits her rival Bernie Sanders."
According FiveThiryEight, Sanders's loss was expected. That said, Editor-in-Chief Nate Silver predicts Sanders will win Colorado, Oklahoma, Massachusetts, Minnesota, Tennessee, and his home state of Vermont on Super Tuesday and still have enough delegates to "be on track for the nomination."
To help rack up the delegates, this next week will be a busy one for both Clinton and Sanders as they campaign ahead of Super Tuesday's 14 primaries. Before the polls closed in South Carolina, Sanders was on his way to Minnesota for an event Saturday night. Sunday Sanders will travel to Oklahoma and Colorado on Sunday. Meanwhile, after Clinton celebrates her big South Carolina win, she's off to Arkansas and Tennessee on Sunday.
With so many delegates on line on Super Tuesday alone, Clinton has focused her campaign on the March primaries following a considerable loss to Sanders in New Hampshire on Feb. 9. Her campaign regained steam with a win last Saturday in the Nevada caucuses, and today's primary only adds more momentum heading into March. And while seems as though the role of Democratic frontrunner continues to shift on a near daily basis depending on which polls you look at, this much remains constant: The 2016 Democratic race for the nomination is a going to be a nail-biter.