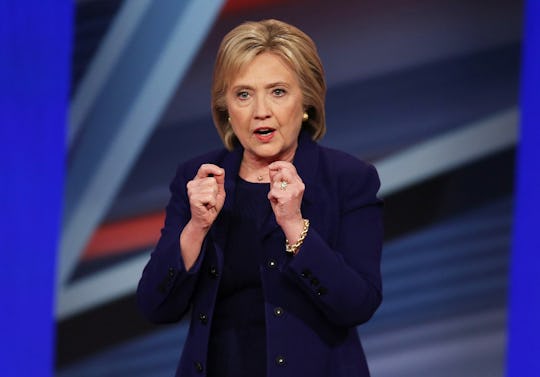 Justin Sullivan/Getty Images
Hillary Clinton Won The Democratic Debate Because Of Her Unapologetic Feminist Stance
The 2016 presidential primary season is really starting to heat up. Thursday night, Vermont Sen. Bernie Sanders and Former Secretary of State Hillary Clinton squared off to discuss their presidential aspirations during the MSNBC Democratic Candidates Debate, hosted by Rachel Maddow and Chuck Todd. It took no time at all for the gloves to come off, and it was clear from the beginning that Hillary Clinton won the Democratic Debate.
Unlike previous debates, Clinton seemed steadfast in her deeply feminist beliefs, while simultaneously refusing to bring personal, backhanded attacks against her popular opponent. (GOP candidates, um, are you paying attention? Please say you're paying attention.) From her opening statement to the final period on her concluding sentence, Clinton was quick to highlight the feminist aspects of her presidential platform; creating a serious, sometimes high-intensity debate stand offs that made it clear that no matter who you're voting for; Sanders and Clinton debating against one another makes both of them better presidential candidates.
Clinton opened the evening by talking about groups of historically marginalized individuals.
But there's also the continuing challenges of racism, of sexism, of discrimination against the LGBT community, of the way that we treat people as opposed to how we want to be treated.
Clinton was the first to speak about racism, sexism or any other form of discrimination — a serious problem plaguing the country and one that has notoriously been looked over in previous debates, both Democratic and GOP. Early in the evening, Clinton stated that she was "fighting for people who cannot wait for those changes", and that she wasn't "making promises that [she could not] keep", subtly hinting that Sanders' promises — while grand and progressive — were impossible to implement or fund. Clinton had a stronger, more inclusive opening statement; indicative of her feminist views.
Clinton's opening statement also set the pace for the rest of the evening, in which she was often on the offensive, essentially "calling out" Sanders on issues that separate the two candidates. Sanders is no slouch, of course, and had his fair share of winning moments in the debate as well. From pointing out Clinton's vote for the war in Iraq to her acceptance of campaign contributions from Wall Street and pharmaceutical companies, Sanders weathered the Clinton storm with his self-described radicalized political platform and ideology intact.
However, it was a clear win for Clinton, who needed a landslide to move the needle in her favor in New Hampshire, before the upcoming primary next Tuesday.
Here's why: