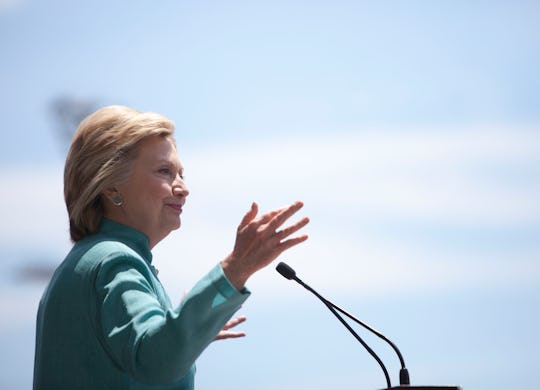 Jessica Kourkounis/Getty Images News/Getty Images
Hillary Clinton's Response To The Dallas Shootings Express Grief For The Lives Lost
Late Thursday night on July 7 in Dallas, Texas, five men were killed by snipers in a shooting during a protest following the deaths of Alton Sterling and Philando Castile. President Obama delivered comments on the Dallas shootings shortly after they'd taken place and as expected, the presumptive presidential nominees from both the Republican and the Democratic party have also delivered comments on the senseless, brutal murders of five men in uniform. Hillary Clinton's response to the Dallas shootings were straightforward and to the point.
Speaking just days ago on the murders of Alton Sterling and Philando Castile, presumptive Democratic nominee Hillary Clinton spoke out on the murders of two black men by police force and urged Americans to come together and do better. Speaking from Warsaw, Poland, where he's attending the NATO Summit, President Obama delivered comments on the Dallas shooting, expressing frustration and underlining the need for America to change the ways in which we view, protect, and cultivate human life in our country. Obama said, "Let me just say that even as yesterday I spoke about our need to be concerned as all Americans about racial disparities in our criminal justice system, I also said our police have an extraordinarily difficult job."
Clinton's comments very much echo those same sentiments.
Though Clinton doesn't have the same duty to deliver a long, heartfelt speech in light of the Dallas shooting news, her words still carry incredible weight. As the presumed Democratic frontrunner and presidential hopeful, speaking out on the shootings, condemning the senseless acts of violence, and standing together with the rest of the country to mourn the lives lost speaks volumes about how she'll lead if she's elected. Even though we'd all love to think that the senseless, violent murders of innocent lives will end, it's unfortunately become more and more unlikely that this will happen without major reform, so Clinton's ability to lead under duress is worth taking note of.
Speaking in 2015, Hillary Clinton commented publicly on the murder of black lives, saying that America's race problem is a truth we all need to face. Speaking in front of reporters, Dallas Police Chief David O. Brown told reporters that the Dallas shooting suspect said "he was upset at white people; the suspect said he wanted to kill white people," and he added that the suspect said they were especially upset at white police officers, according to the New York Times.
In the last three days, more than seven lives have been lost as a result of senseless violence. I'd say now is as good a time for change as ever.