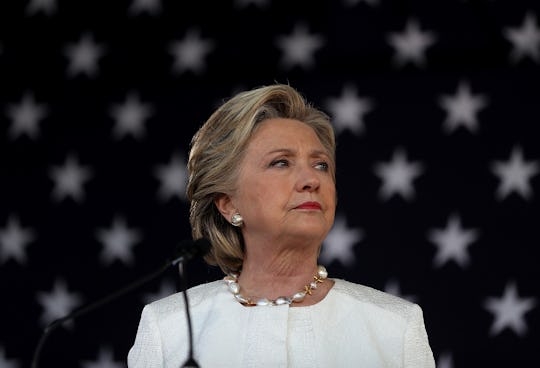 Justin Sullivan/Getty Images News/Getty Images
Hillary Clinton's Response To The Iowa Officer Shootings Was Respectful To The Victims
Early Wednesday morning two officers were shot in Urbandale, Iowa, a suburb of Des Moines. They were shot in their patrol cars in what appeared to be an "ambush-style" attack. Both officers died of their injuries. Already, Democratic presidential nominee Hillary Clinton has responded to the Iowa police shootings, canceling a Get Out The Vote event that had been scheduled for Wednesday in deference to the tragic shooting. Clinton also tweeted her condolences with a heartfelt message.
According to Sgt. Paul Parizek, a spokesman for the Des Moines Police Department, the officers have apprehended a suspect, 46-year-old Scott Michael Greene, a resident of Urbandale, Iowa, who they believe has information pertaining to the shootings. Romper has reached out to the Urbandale Police Department regarding comment from a representative for Greene and has not yet received a response. While Parizek did not clarify how Greene was involved, according to the New York Times:
We think that he has some information pretty crucial to closing this case out.
Law enforcement officials don't believe there was any connection between the two slain officers and the suspect, Parizek did acknowledge that this is a dangerous situation for officers at the moment, according to the Times.
There is a clear and present danger to police officers right now. There's somebody out there shooting police officers. We hope to find him before somebody else gets hurt.
Officers were responding to a report of gunshots fired around 1:30 on Wednesday morning when they came across an Urbandale officer who had been shot in his patrol car. When further officers were called to the scene, a second officer from Des Moines had also been shot in his patrol car just two miles away from the first shooting. Neither of the slain officers have been identified by law enforcement officials.
When news of the police shootings in Iowa reached Democratic presidential nominee Hillary Clinton, she made the decision to cancel an important event that would have been held at the Des Moines Social Club with her running mate Tim Kaine and husband, former President Bill Clinton. The Get Out The Vote event was being billed as an effort to encourage early voting.
CANCELED: Des Moines Get Out the Vote Event with Tim Kaine & President Bill Clinton
Due to the tragic shooting of Des Moines and Urbandale police officers last night, the Des Moines Get Out the Vote event with Tim Kaine, President Bill Clinton, and Ben Harper at the Des Moines Social Club has been canceled.
Clinton also tweeted the following:
For his part, Republican presidential nominee Tweeted his condolences to the families of the slain officers on Wednesday.
With just six days left to go until election day on Nov. 8, Clinton is clearly trying to make the most of every minute available. Detractors may see her cancellation in Iowa as something negative, but it is the real measure of a leader to take a step back during a tragedy, rather than using that tragedy as a political strategy.