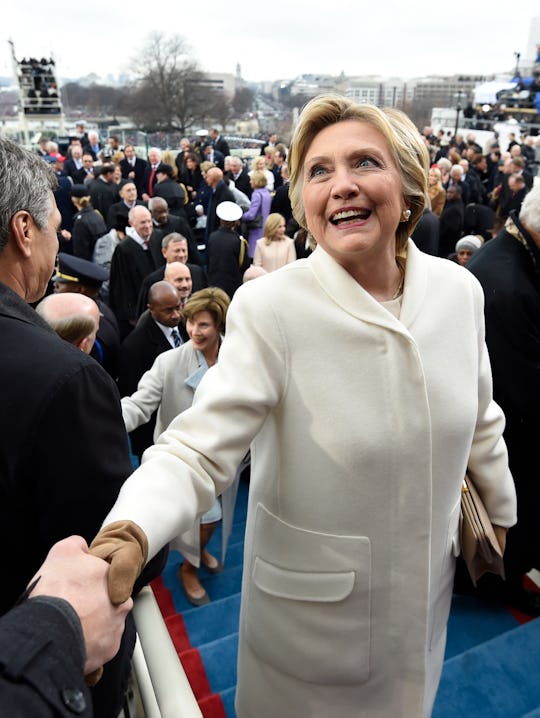 Pool/Getty Images News/Getty Images
Hillary Responds To Women's March In Washington
The Pantsuit Nation is alive and well, despite a few months of floundering. After contemplative walks in the woods, former Democratic presidential nominee Hillary Clinton was back in Washington for President Trump's inauguration. As women have been busy preparing to march on Washington to protest Trump's new administration and the affect it could have on women, Clinton has been deceptively quiet. Until now. Hillary Clinton's response to the Women's March is a solid, potent reminder not only of why we march, but of the president we almost had.
Clinton lost the election to Trump in November in a shocking (and to some people, devastating) defeat. As the first women in history to come so close to becoming President of the United States, it was clearly a blow for Clinton. How could it not be? There she stood, in a crowd of supporters under a literal and figurative glass ceiling she thought she was about to shatter. Poised to become the first woman President of the United States. She put in the leg work. She had the experience; as former President Obama put it,
I don't think that there's ever been someone so qualified to hold this office.
She had already been the first lady when her husband, former President Bill Clinton, was in office. She was Secretary of State under Obama. And she lost to a man who has no experience on any level of government. Who spouted misogynistic, racist, and xenophobic vitreol at every opportunity.
It must have been soul-crushing. Yet still; she rises.
Clinton has not been actively participating in the Women's March on Washington, and there are some protesters who are bitterly disappointed at the omission. After all, the Women's March website did cite some amazing revolutionary leaders who have fought for women's rights. Women like feminist and activist Gloria Steinem, Nobel Prize winner Malala Yousafzai, and civil rights icon Harriet Tubman to name a few. So why was Clinton left off the list?
Clinton has obviously been paying attention to the march as the day went on, tweeting this beautiful piece of art.
Neither the organizers of the Women's March nor Clinton has explained why she has not been a part of the march. A Change.org petition was started by a Clinton supporter in Washington to have her name added to the list, and that petition has now garnered at least 5,000 signatures. The Wise Women for Clinton sent a letter to the Women's March to have her name added to the list, stating:
Because women's rights are human rights and because she dared to say so out loud…
Because of her tremendous contribution to policy, dialogue, thinking and forward progress…
Because she has been an inspiration to women and girls in this nation and beyond…
Because her words are being used in the mantra and guiding principles of this march…
Because many are marching for her as well as against him…
We kindly request that Secretary Hillary Rodham Clinton be added to the list of women we honor at the march.
Whether or not Clinton's name will be added to that list, as ever, she is supportive of other women. She has shared her support of the march, regardless of her exclusion.
Because still, she rises.