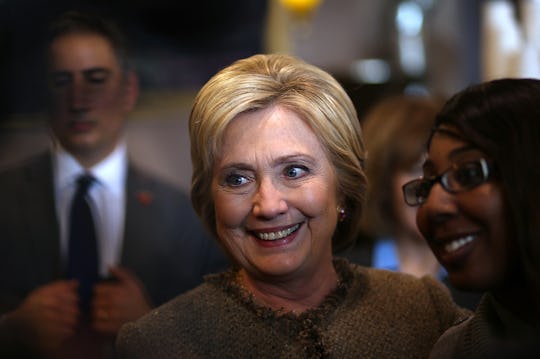 Justin Sullivan/Getty Images News/Getty Images
Hillary Clinton's Tweets During Super Tuesday Were Totally Amazing & Awe Inspiring
Hillary Clinton comes into Super Tuesday fresh off of a triumphant South Carolina primary, and poised for some good news. On this very important night, about one third of the delegates needed to clinch the nomination are up for grabs in states from Texas to Massachusetts, and polls predict that the former Secretary of State will snap up a majority of them over Vermont Sen. Bernie Sanders. Clinton looks likely to win Super Tuesday, but that doesn't mean she's going to kick back and relax. Nope, in fact, on Super Tuesday night, Clinton's official tweets gave supporters a behind the scenes glimpse at her increasingly chaotic evening — and it was amazing.
Clinton got off to a slow start this primary season, with a nearly too-close-to-call race in Iowa and a loss in New Hampshire. She rebounded in Nevada, and pulled off a substantial win in South Carolina, beating Sanders by nearly 48 percentage points. The 12 states and one territory voting on Super Tuesday play to her strengths in the South and with minority voters. If she does as well as projected, it'll be difficult for Sanders to bounce back in the rest of the primary, especially with the ever-complicated matter of superdelegates, the majority of whom have pledged themselves to Clinton.
All day Tuesday, Clinton's Twitter account, complete with a snazzy new picture with the words Today is Super Tuesday emblazoned on it, encouraged voters to get out there and make their voices heard.
And as the results have started rolling in, Clinton's account has continued to give us a glimpse into her wild-and-crazy night:
Twitter game on point tonight, Hillary Clinton.