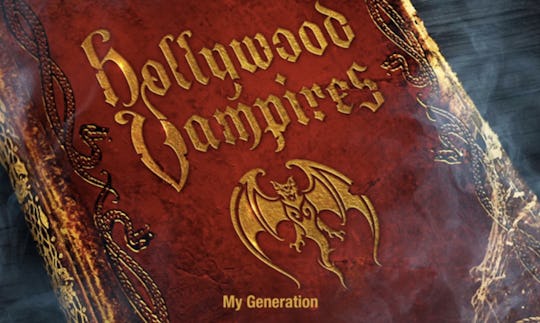 Hollywood Vampires/Vevo
Hollywood Vampires Grammys Performance With Johnny Depp Was Perfectly Strange
On Monday night, Feb. 15, the music world came together to celebrate the best of the best, say goodbye to the influential artists we lost, and usher in a new batch of popular musicians during the 58th Annual Grammy Awards. The list of performers was nothing short of impressive, but the Hollywood Vampires' Grammys performance with Johnny Depp was wonderfully odd in all the right ways.
Alice Cooper was, well, Alice Cooper. He came to the Grammys stage in his full get-up — old, leather crop, leather pants, and heavy black makeup — and while it was somewhat strange to see Johnny Depp playing a guitar and singing on stage next to two iconic rock stars, it was also kind of awesome. Their performance was an ode to a dying form of rock n' roll, where strange was celebrated and heavy rifts were highlighted and men wearing makeup was nothing short of sexy.
For those who may not know (but definitely do now, thanks to their unbelievably heavy and high-energy performance) Hollywood Vampires is an iconic band, formed in 2015 by infamous rockstar Alice Cooper, A-List actor Johnny Depp, and Aerosmith guitarist (not to mention, heartthrob) Joe Perry, to honor the great musicians of the '70s who attended a Los Angeles-based drinking club known as the Hollywood Vampires. It's unreal that the band can come together and create music, considering every member has an insane schedule, but hey, when it's the Grammy's, you make it happen.
Here they are:
Prior to their Grammy performance, the band had only played live once: in September of 2015 in Los Angeles, a show that coincided with the release of their first album. In July, the band will appear at the 2016 Rock Fest in Cadott, Wisconsin. The festival dates are July 14-16, but the Hollywood Vampires (or the festival) have yet to announce which day(s) and at what time they'll play. Again, I'd guess that has something to do with the band members and their schedules.
Seriously, how can you not love these guys and their ability to still melt faces? In a day and age where the Biebers and the Swifts of the world are celebrated, it was cathartic to see a couple of icons and one lucky actor take the stage and rock out in a way that felt authentic and real and entirely awesome. Music doesn't come with an age limit, and these three gentlemen proved that Monday evening.
If their unbelievable performance has left you with a Hollywood Vampires itch that you just have to scratch, their music and live performances are easily searchable on YouTube. You're welcome.