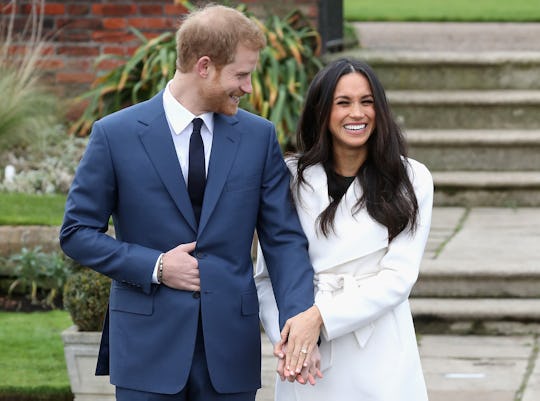 Chris Jackson/Getty Images Entertainment/Getty Images
How To Throw A Royal Wedding Party That'll Make Waking Up Early Worth It
Any excuse to throw a party is a good excuse, but the upcoming royal wedding is a particularly fun reason to host a get-together where everybody can play at being posh for a morning. That's right, this is one party that will require your guests to get up super early on a Saturday: Prince Harry and Meghan Markle's May 19 nuptials will take place at 7 a.m. Eastern Time (12 p.m. Greenwich Mean Time), meaning this won't exactly be your typical after-dark soirée. So how do you throw a royal wedding party that'll make worth waking up at the crack of dawn on a weekend worth it?
Since this is a huge event expected to draw the attention of millions of spectators worldwide, there are luckily lots of ideas and royal wedding-specific party favors out there that will make planning your bash a breeze, even if you don't have a Buckingham Palace-sized budget. Harry and Meghan's wedding, in case you didn't know, is estimated to be costing the royal family nearly $45,520,303, according to Brides (Meghan's dress alone was over $200,000). So think of it this way: No matter what you spend on your party, you'll be saving millions.
Basically, this wedding is like the equivalent of the Super Bowl for people who prefer gossiping about who has the most over-the-top hat than comparing, um, field goals (that's a football thing, right?). So get planning, because the countdown is on!