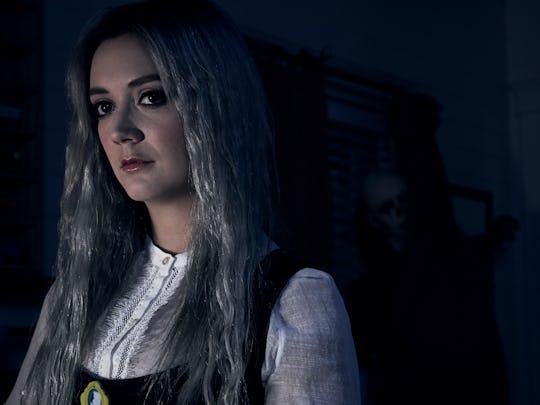 Frank Ockenfels/FX
Kai & Winter Share An Interesting Connection On 'AHS: Cult'
Are you ready to be terrified? Well ready or not American Horror Story: Cult has arrived and with it a whole new group of terrifying characters, two of which have immediately caught my eye. I'm referring to Kai Anderson and Winter Anderson. Given that they both share the same last name, some of you may be wondering how Kai and Winter are related on AHS: Cult? The trailer doesn't reveal much about what their larger roles are going to be, though it's clear that they both appear to be up to something very sinister together, which involves terrorizing poor Sarah Paulson's character, Ally.
From what I can tell from the trailer, it looks like life starts spiraling downhill for Ally immediately after the 2016 election that put Donald Trump in the White House. As promised, this season is going to be about the climate in America following this election and it's that very impact which causes Ally's debilitating fear of clowns to flair up again. In fact, after Trump becomes president she starts seeing them everywhere. It looks like she's going to be terrorized by the blue-haired maniacal Trump supporter named Kai (played by AHS vet Evan Peters in what is truly his most terrifying role to date).
And then there's the creepy babysitter, Winter, played by Billie Lourd. Winter says that children are the thing that fill her with dread, but she gets a job babysitting Ally's kid, so that she can start dropping clown paraphernalia around the house. So clearly she and Kai have a love of torturing people in common. Sweet, right?
So far, it's unclear how exactly Kai and Winter are related, though they have the same name. It could be that they are literally siblings, after the same creepy goal. Or perhaps Kai is a cult leader in the style of Manson, and Winter has taken the same last name as him as part of his "family." This would make sense if Kai has sent Winter to terrorize Ally for him. It would also make sense given the theme of this season of the show. (You can't think "cult" without also thinking "Manson.")
All the promotional imagery of for the show is focusing on bees and clowns — specifically, Twisty the Clown from Season 4 of American Horror Story. It's unclear how all of this will tie together to form one story, and how deep of a dig the show is going to make at Trump. But what I can tell you for sure is that it is going to be weird and unsettling, as American Horror Story always is. Billie Lourd has said that her character will be more "human" than her character on Scream Queens. That's not a huge leap, but I'm still excited to see where it goes and how Kai and Winter are connected in this twisted tale.