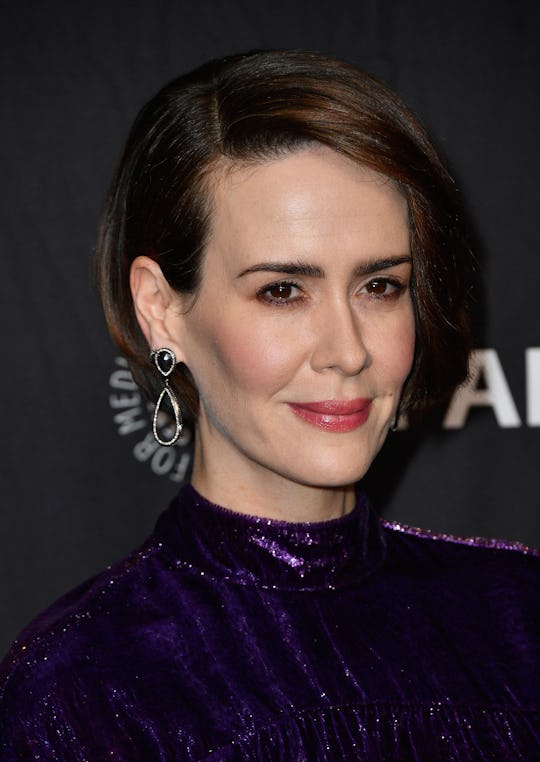 Frazer Harrison/Getty Images Entertainment/Getty Images
Sarah Paulson's Character Is Very Relatable On 'AHS: Cult'
When Ryan Murphy teased months ago that Season 7 of American Horror Story would be themed around the 2016 presidential election, it wasn't too surprising since, for some Americans, the thought of having Donald Trump as president was horrific and seemed almost unreal. While the overall theme this season isn't going to be politics, the election results do play a role in the story, as seen from characters in the promos. But is Sarah Paulson's character on AHS: Cult based on a real person?
Since people can relate to her character Ally Mayfair-Richards' anguish over the results of the election, you might say she's based on those who saw Trump's win as detrimental to the country. Paulson's character is a wife and mother, married to Alison Pill's Ivy, and as a lesbian, she no doubt has serious worries over what having this new president would be like for other members of the LGBTQ community, much like what has been happening in real life.
But in AHS: Cult, there's a lot more to it. Ally also has a legitimate fear of clowns, and former AHS: Freak Show favorite Twisty even pops up this season in the form of a comic book and terrifying toy given to Ally's son by the apparent nanny from hell, Winter, played by Billie Lourd.
At a recent special screening of the first three episodes of AHS: Cult, Murphy confirmed that the new season isn't necessarily about either of the presidential candidates at all, which lends footing to the idea that the characters are fictional, and instead supposed to be representative of how society reacted as a whole and continues to react in this post-election world. "It really is about the rise of a cult of personality that can rise in a divided society," Murphy explained. "It's not about Trump, it's not about Clinton."
In a nutshell, Season 7 of AHS is going to be more of a psychological horror than anything. Murphy told The Hollywood Reporter that AHS: Cult is going to be about "highlighting people who don't have a voice in our culture — people who are ignored by the current administration and who are afraid and feel terrorized that their lives are going to be taken away."
So basically, Paulson's character on AHS: Cult is more than likely a fictional representation of how numerous Americans reacted following Trump's election and how her own phobias play into her mental state of mind. That's not to say that there won't be some real-life portrayals on the season, however. AHS favorite Evan Peters will portray a modern day cult leader and Trump supporter Kai, along with several famous cult leaders from real life on AHS: Cult. "Throughout the season, Evan Peters is, I think, playing six different cult leaders: Kai, [Charles] Manson, David Koresh, Andy Warhol. Jim Jones is a big one," Murphy told Digital Spy.
It's unclear if these portrayals will be in flashbacks or merely inside Kai's head, but Peters is taking on a big responsibility in playing half a dozen characters this season. And even if Paulson's character is fictional, it's going to be a treat to see how hers interacts with Peters' characters this time around.