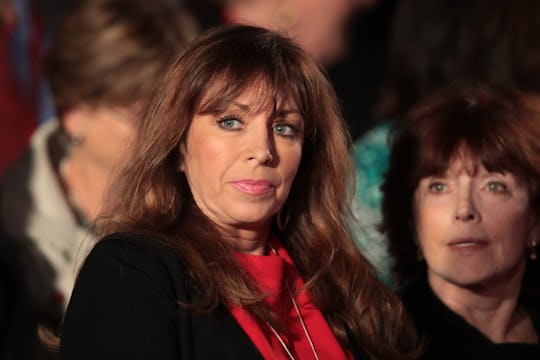 Scott Olson/Getty Images News/Getty Images
How Are Paula Jones & Donald Trump Connected? Kellyanne Conway's Husband Is The Link
In attempting his own inelegant brand of damage control, Republican presidential nominee Donald Trump assembled a few alleged victims of sexual harassment and assault for a press conference before the second debate last week. The most well-known of the alleged survivors — three of whom have accused former president Bill Clinton of inappropriate sexual behavior — was Paula Jones, who sued Bill Clinton for sexual harassment in 1994. Aside from joining forces to smear the former president as his wife competes against Trump for the White House, Paula Jones and Donald Trump are connected through decades of political maneuverings that far outdate the recently published video 2005 that features the candidate himself bragging about groping and kissing women without their consent.
When a reporter at the press conference asked Trump about the "Trump tape," the release of which inspired the spectacle in the first place, and whether he felt that his star power entitled him to take liberties with women, Jones snapped back. "Why don't you ask Bill Clinton that?" she said, according to The New York Times.
Conspicuously absent from this narrative, of course, is Democratic nominee Hillary Clinton herself. That's because the story of how Jones and Trump are linked has very little to do with her or her bid for the Oval Office, and everything to do with her husband's alleged predatory past. Romper reached out to the Clinton campaign for comment and did not immediately hear back.
Jones' apparent allegiance to Trump could come off as baffling, as he is now accused of perpetrating crimes against women reminiscent of those Clinton has been accused of over the years. (Trump has denied all of the allegations against him and did not respond to Romper's separate request for comment.) But, if you believe her account, she also has every reason to resent and attempt to sabotage Clinton, and that would include using his past to destabilize Hillary Clinton's campaign. The onetime employee of the State of Arkansas' Industrial Development Commission alleged in a subsequent lawsuit that, in 1991, when Bill Clinton was governor of the state, he exposed himself to her in a hotel suite at a conference they were both attending, Vox reported. Clinton ultimately settled with Jones and paid her $850,000, although he never admitted wrongdoing as part of the agreement.
And here's where the '90s and 2016 merge: The author of the court brief in the civil suit was none other than George T. Conway III, according to The New Yorker, the husband of Donald Trump's current campaign manager, Kellyanne Conway.
So, it's clear that the Conways' dedication to keeping the Clintons out of the White House certainly did not bloom in 2016. The civil case that George Conway spearheaded (although his name never appeared on the brief) established in court that a sitting president could be subject to a civil lawsuit. What's more, Clinton denied ever having a sexual relationship with Monica Lewinsky during deposition in the Paul Jones case — an error (and lie) that made it possible for him to be tried for perjury during his own impeachment trial in 1998.
Still, because the description she gave of what Clinton's penis looked like (yes, they actually made her do that) was proven to be inaccurate, according to Vox, which indicates that her claims may have been fabricated. Donald Trump certainly thought they were, when he talked about the case in a 1998 NBC News interview. "Paula Jones is a loser, but the fact is that she may be responsible bringing down a president, indirectly," he said. "That statement was a bad statement to have been made, and it's proven to be false."
Now, though, the situation seems to have presented an opportunity for Trump, and he's grasping onto these old connections to take it.