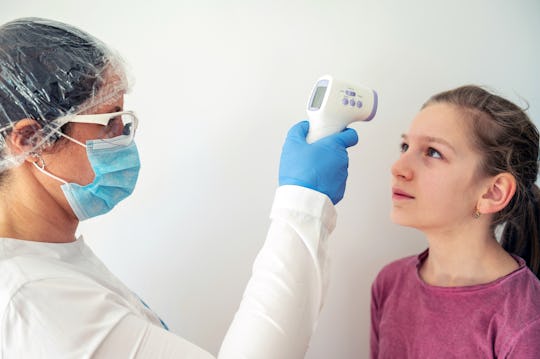 Stefan Cristian Cioata/Moment/Getty Images
How Are Pediatricians' Offices Keeping Patients Safe During The Pandemic?
On a good day, walking into a pediatrician's office might be a health risk. With all the coughing, sneezing, and sniffling going on, a pediatrician's office often feels more like a cootie catch-all than a place where one gets well. And even though the last place you might want to be is in their office right about now, you might have a sick child who requires medical attention. So what are pediatrician's offices doing to keep patients safe during the pandemic? More than you might think.
During regular cold and flu season, you can almost feel like you're getting infected while you sit and read old magazines and shoot the stink eye at that one kid who isn't covering their cough. But now with COVID-19, it might be even more precarious (and contagious) to come into contact with other patients in the waiting room. The Centers for Disease Control and Prevention (CDC) have guidelines for healthcare providers to help separate sick patients from healthy ones. For example, the CDC recommends that practitioners offer well visits in the morning and have sick visits scheduled for the afternoon. They also suggest keeping patients separated, particularly those who aren't feeling well from those who are there for a check-up.
If you have to take your kiddo to the doctor, here's what you can expect to encounter.