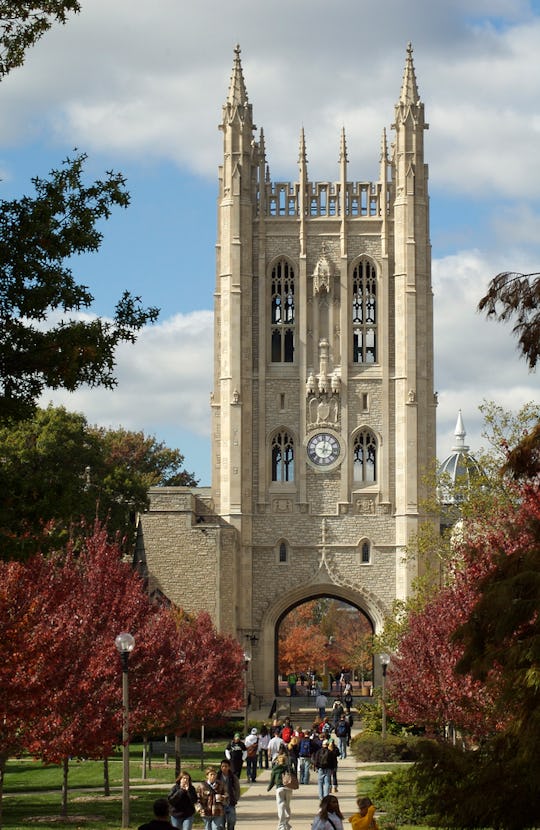 Adam Proctor/Flickr
How Bad Are Racial Tensions At The University Of Missouri? Reports Suggest Years Of Incidents
Just this morning, news broke that University of Missouri System president Tim Wolfe resigned after Concerned Student 1950, a student protest organization that formed in response to pervasive on-campus racism, demanded his resignation. For over a week now, students, faculty, and staff at the Columbus, Missouri flagship campus have staged peaceful protests that were prompted by a series of racist on-campus incidents. The situation came to a head this weekend, when 32 members of The Missouri Tigers, the University's football team, announced their intention to stop playing until Wolfe resigned, according to The Atlantic.
The prospect of losing millions of dollars in game-day revenue was reportedly the "fatal blow" that made Wolfe's resignation inevitable, according to the New York Times, but there's a lot more to this story than just these recent events. As it turns out, Wolfe had allegedly been clashing with students ever since the school year began. Romper reached out to both Wolfe and university Chancellor R. Bowen Loften, who resigned later in the day Monday, for comment on the conflict but had not heard back as of Monday evening.
Back in September, the president of the Missouri Students Association, Payton Head, posted on Facebook claiming that as he walked near campus, a bunch of guys driving past continuously screamed the N-word at him. Sadly, this incident was quickly followed up by another. Just a few weeks later, on Oct. 5, members of the Legion of Black Collegians said they were called the N-word by a "visibly intoxicated" white student while they were rehearsing for homecoming activities, according to The Atlantic. This prompted student groups, including Concerned Student 1950, to begin meeting with both Chancellor Loftin and with Wolfe.
According to a report by the Associated Press, it was then that relations between Wolfe and the protesting students began to seriously erode. Abigail Hollis, a member of Concerned Student 1950, said there was a "stark difference" in how Chancellor Loftin and Wolfe treated the student's complaints. According to Hollis, Wolfe showed a "lack of concern and ... understanding for us as marginalized students."
According to a statement released on Concerned Student 1950's Twitter account, Wolfe's alleged negligent attitude toward on-campus racial issues may go back a lot farther. "After years of constant emailing, letter writing, and social media outreach," the statement reads, "he [Wolfe] had still not responded to the issues of racial injustice on the largest campus in the state."
On Oct. 20, protests became more organized as Concerned Student 1950 formally released a list of demands, which included a demand for the "immediate removal of Tim Wolfe as UM system president." The student group also demanded that the "University of Missouri creates and enforces comprehensive racial awareness and inclusion curriculum throughout all campus departments and units..." and that the University hire more black faculty and staff. The group set an Oct. 28 deadline for these demands to be met.
After that Oct. 28 deadline passed, the group began to lead peaceful protests and sit-ins across campus. The protests saw an injection of new energy this weekend thanks to the football team's boycott of its own games, and legitimacy in the form of a Monday morning announcement that a group of University of Missouri faculty would join the students in protest. Wolfe's resignation this morning — followed by Loftin's own resignation later this afternoon — is considered a victory by Concerned Student 1950, who summed up their excitement: 
Image: Adam Procter/Flickr