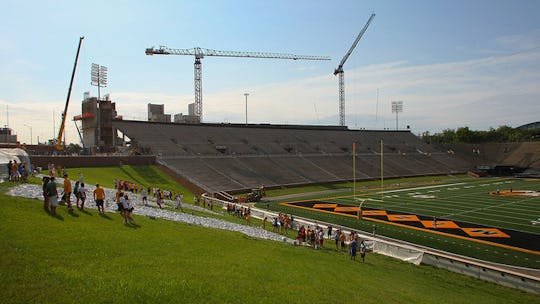 nonorganical/Flickr
University of Missouri Chancellor Steps Down Following Student Protests, & The System President's Own Resignation
After Mizzou's president, Tom M. Wolfe, resigned this morning before the Board of Curators, the University of Missouri's chancellor, R. Bowen Loftin, also resigned, according to The New York Times. The two back-to-back resignations come after racial tensions and protests over the course of the semester have dogged the university, and risen in their intensity. For months, students have been protesting two persisting issues: graduate healthcare cuts, which cut off health services to female students, and a pervasive racial discrimination that's swept the student body.
News of the racial tensions on campus first caught national attention this summer, when a post by a black student went viral, highlighting the racial slurs he faced merely walking to class. Soon after, it was learned that a swastika had been drawn out of feces on a dormitory wall. The university's response, many students felt, was unsatisfactory, and in a show of protest, a graduate student named Jonathan Butler went on a hunger strike — according to NBC News, he's remained on one for much of November. And finally, this past weekend, black members of the university's football team vowed to sit games out until the president resigned. This morning, Wolfe finally did. 
Loftin, the school's chancellor, resigned saying he would transition to a role in research at the end of the year. All of this is thanks to non-violent actions (and speaks to the heavy hand that football teams have on campuses). Loftin was responsible for ordering mandatory sensitivity training for students and faculty last month, after students blocked the homecoming parade in protest. He will be around to oversee diversity training when it begins this January. last week,  Loftin issued a statement then saying that: 
Racism does exist at our university and it is unacceptable. It is a long-standing, systemic problem which daily affects our family of students, faculty and staff. I am sorry this is the case. I truly want all members of our university community to feel included, valued and safe.
Meanwhile, students and supporters have taken to Twitter: 
Maybe a change in leadership will do the university good.
Image: nonorganical/Getty Images