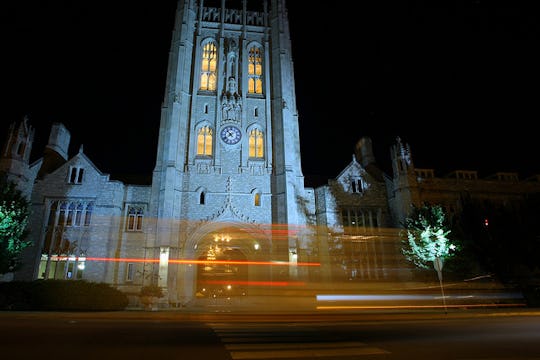 nonorganical/Flickr
University Of Missouri President Resigns Amid Ongoing Protests & Racial Issues Plaguing The Campus
On Monday, following months of student protests at the University of Missouri, President Timothy M. Wolfe resigned, The New York Times reports. The ongoing controversy plaguing the university since the summer stemmed mostly from heated race relations among the student body; though it was also compounded by another pressing issue: The rights of female graduate students to gain access to women's health care. According to NYT, Wolfe announced his resignation at the meeting of the Board of Curators, where reporters and other administrative faculty had gathered. 
Those present were reportedly stunned by the announcement, though the departure is perhaps not entirely surprising. After all, the ongoing student protests had been calling for Wolfe's resignation for months. And just this past weekend, CNN reported that some 30 black members of the university's football team declared they would sit out out of all future games until the system president formally resigned. The focus on Wolfe has to do with what students felt was a slow response to the mounting racial incidents that have been occurring on campus — from racial slurs being yelled at black students to a swastika being drawn on a residence hall in feces.
For his part, NYT reports that Wolfe seemed emotional while sharing the news that he was stepping down, but as he did so, he is said to have quoted a passage from the Bible before telling students: "Use my resignation to heal and start talking again."
Update: By afternoon, the university's chancellor, R. Bowen Loftin, had joined Wolfe in resigning — though unlike Wolfe, Loftin explained that he would be transitioning into a different role within the institution in research. "I have decided today that I will transition from the role of chancellor" Loftin told the Board of Curators, according to The New York Times. According to a statement from the university, Loftin began his tenure at Mizzou in 2013, after leaving a position at Texas A&M. 
Image: nonorganical/Getty Images