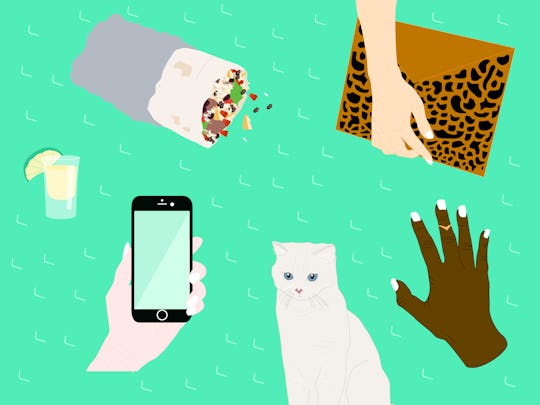 Liz Minch/Romper
How Big Is My Baby This Month? A Handy Millennial Guide To The Tiny Human You're Growing
If you are pregnant, have ever been pregnant, or have ever known a pregnant person, you're probably familiar with the emails prospective parents (or anyone creepily pretending to be one) can sign up for in order to be informed every seven days, based on your projected due date, how big your baby is this week. This bigness is not measured in inches or centimeters, of course, but rather in foods, mostly plant-based, with the occasional shrimp thrown in. When I was pregnant, my notifications included a range of seeds, berries, and a remarkable array of both cruciferous and root vegetables. They ranged from the mundane lemon to the more esoteric jicama.
This is informative if you're well acquainted with most of your supermarket's produce aisle, but if you haven't seen a turnip in a while, it can be less enlightening. Raise your hand if you know what a jicama looks like not chopped up in a salad. Be honest. That's what I thought. Also, the earth's offerings tend to vary in size — is my baby a petite or more full-bodied cantaloupe? Unclear.
All of which got the Romper team thinking: What would happen if instead of charting your baby's size in legumes and gourds, you gauged his or her growth in terms of those items none of us could live without? 
How Big Is My Baby This Month?