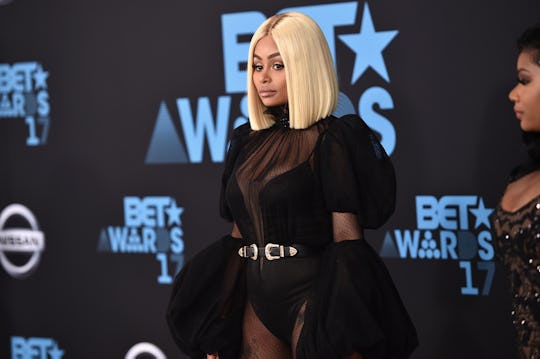 Alberto E. Rodriguez/Getty Images Entertainment/Getty Images
How Blac Chyna's Restraining Order Affects Dream
On Monday, Blac Chyna was granted a temporary restraining order against Rob Kardashian, according to E! News. How will Blac Chyna's temporary restraining order affect Dream Kardashian, the daughter she shares with Rob? It's not immediately clear, especially given Kardashian's threats he would never let Chyna see their daughter again if she didn't stop "the alcohol and drugs and cocaine and X and E," he alleged in an Instagram post last week. Kardashian's representative has not responded to Romper's requests for comment.
Kardashian and Chyna have had a complicated relationship since early 2016. After getting engaged in April of last year, they announced they were pregnant the following month. In November, their daughter Dream Renee was born. She is the first baby for Kardashian, and is Chyna's second child. According to People, Kardashian and Chyna share custody of Dream via an unwritten custody agreement. According to Chyna's Snapchat, Dream is currently in her mother's custody as of Friday.
Chyna's first child was with rapper Tyga, a boy named King Cairo Stevenson born in October 2012. Chyna and Tyga share custody of King Cairo. (And, to make things even more confusing, Tyga is dating Kylie Jenner, Kardashian's half sister.)
In a pre-recorded segment for Monday's Good Morning America, Chyna appeared with her lawyer, Lisa Bloom, to discuss the reasons why she has sought a temporary restraining order against Kardashian. "Here in California, it's a crime, it's a civil wrong," Bloom said regarding Kardashian's explicit social media tirade against Chyna. Bloom continued, "It's also domestic abuse, which allows us to go in immediately and get domestic violence restraining orders to protect Chyna."
According to court documents obtained by E! News, the temporary restraining order stipulates that Kardashian must stay from Chyna at all times, from a distance of at least 100 yards away. Noticeably absent from any of the reports surrounding the temporary restraining order is whether or not Kardashian will be permitted to see his daughter, Dream. Based on what's known publicly at this point, if Kardashian went to pick up his daughter from Chyna's house while his ex-fiancée was home, he could be in violation of the TRO.
Chyna and Kardashian's breakup has now entered its seventh month, which has become progressively more public and vitriolic. Kardashian's revenge porn shaming his ex-fiancée has only further blown open their dispute in the public eye. Speaking to People, an unnamed source close to the Kardashian family said, "At this stage, the primary concern is protecting Dream from all this nastiness."